The European Association of Amusement Suppliers (EAASI), was created in 1981 by the national associations of France, Germany, the Benelux countries, Switzerland, Italy and Russia, to represent the common interests of this industry on a European level and to coordinate actions to improve the industry's image. One of its first achievements was to group the diverse national tradeshows that were held until then, into one sole European Attractions Show (EAS).
The first editions were celebrated in London in 2000 and 2001. In 2002, it coincided with the German trade fair Interschau in Düsseldorf, which explained the record attendance. Then came two years of stagnation, largely due to traditional disagreements between Europeans. After stumbling in Vienna, it was absorbed by the International Association of Amusement Parks and Attractions (IAAPA), a more efficient organisation that was eager to expand outside of the USA.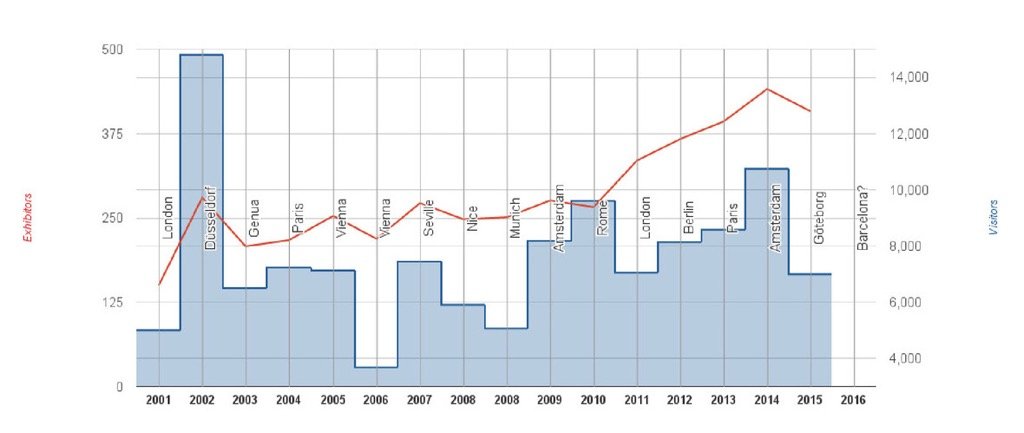 The new owners changed the show dates from the start of the year to the autumn, so in 2008 there were two editions held: in Nice in January and Munich in October.
If we plot the historic data of exhibitors and visitors of this tradeshow on a graph, we can draw some interesting conclusions:
1) Joining the tradeshow with another event is positive (in 2002 it coincided with the German show Interschau).
2) Repeating two years in a row in the same place is not recommended (Vienna 2005-2006).
3) Visitors prefer new warm places (Seville 2007, Rome 2010) or cold but fun ones (Amsterdam 2009 and 2014).
This explains the disappointment of this year's edition in Gothenburg, (although it was a great place for the Scandinavians), and it predicts success for next year in Barcelona: an internationally fashionable city and in which this event has not yet been celebrated.