Amusement Logic is the only company in the leisure industry which offers the widest and most complete range of services and products for the water park sector
Outdoor water parks, indoor water parks, (suited to opening year-through, regardless of the weather or its location), spaces with the latest attractions, themed, with circuits designed for youngsters, adults or for all the family. Amusement Logic's client-customised service includes the park's concept design, the initial investment estimation, market and feasibility studies, the architectural and engineering work, the supply of all the specialised equipment and project management.
Thanks to the comprehensive treatment of each project, Amusement Logic becomes an investor or developer's best ally. We provide our experience and know-how from the preliminary phase of its development until start-up, even helping our clients in the creation and training of the management company.
We provide our clients with the following services and products, amongst others:
Concept design
Estimation of initial investment
Market research and feasibility studies
Architecture and engineering
Project Management
Supply and installation of:
Water games and attractions
Water movement machinery for wave pools and lazy rivers
Metal towers and structures for water slides
Hydraulic equipment for filtration and pumping
Irrigation networks
Residual water treatment equipment
Construction of swimming pools and plantrooms
Construction of artificial rocks
Construction of paving and theming elements
Products for landscaping integration
In Amusement Logic, each leisure project (hotels, shopping centres, casinos, waterparks, aquariums, adventure centres…) represents an architectonic challenge, due to its originality, complexity and impact.
Our objective: to search for and always achieve surprising results. For this, we are supported by the company team, who together have more than 200 years of experience.
We ensure that the different components of the facility are optimum in regards to its size and location in the available terrain, and as such, we guarantee that the project will be executed favourably from both a technical and financial point of view.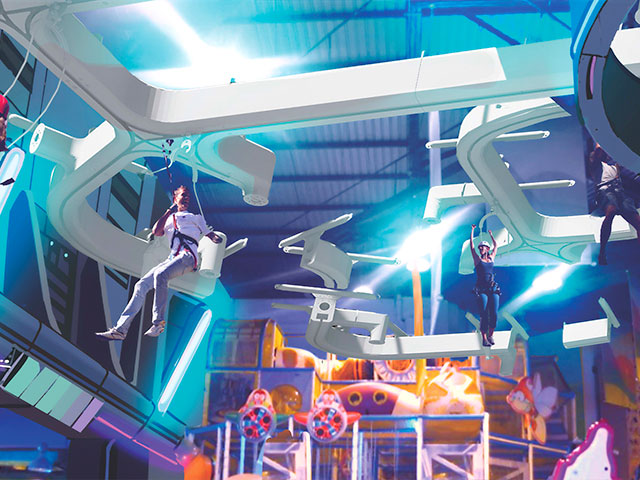 Creating trends, from the concept to construction