Summer Vacation is approaching and many of you are surely looking for where to go toto go to spend a well-deserved vacation with your family. A few days ago we offered you the best 19 hotels for vacation with children in Spain, and today we have made a selection of the 19 best family hotels for holidays with children in Europe.
We have selected several hotels with beaches and water parks, but we also bring you ideas for those who love natural environments like the mountains, or those who prefer a more urban holiday, or near theme parks, whether you have small children or older children. We hope you like them!
1) Legoland Castle Hotel (Windsor, London)
To live as if you were a Lego figure for a few days! The new Lego theme park in Windsor opened 2 years ago and has a spectacular Lego hotel-castle.
It has 61 themed rooms, with 657 Lego models made up of more than two million pieces, that will immerse you in a world of knights, magicians and medieval dragons. You have access to Legoland Park and a package of extras such as treasure hunts in the room, a Playstation 4 or a Lego gift.
More information: Legoland Castle Hotel
2) Hotel Cristal Beach Resort & Spa (Praia da Vieira, Portugal)
It is a four star tourist complex located between the sea of Praia da Vieira and the second largest extension of pines in Europe, the Pinhal de Leiria. It is composed of 86 bedrooms, 21 standard rooms and 65 villas that are a replica of the ancestral fishing homes, that is considered by many to be a reference point of the Portugal hospitality.
The hotel is located in a complex with free and direct entry to the Maripaque water park (open only in season). This theme park is composed of all types of waterslides and swimming pools for both adults and children with a diverse range of activities.
More information: Hotel Cristal Beach Resort & Spa
3) Playmobil Hotel (Zirndorf, Germany)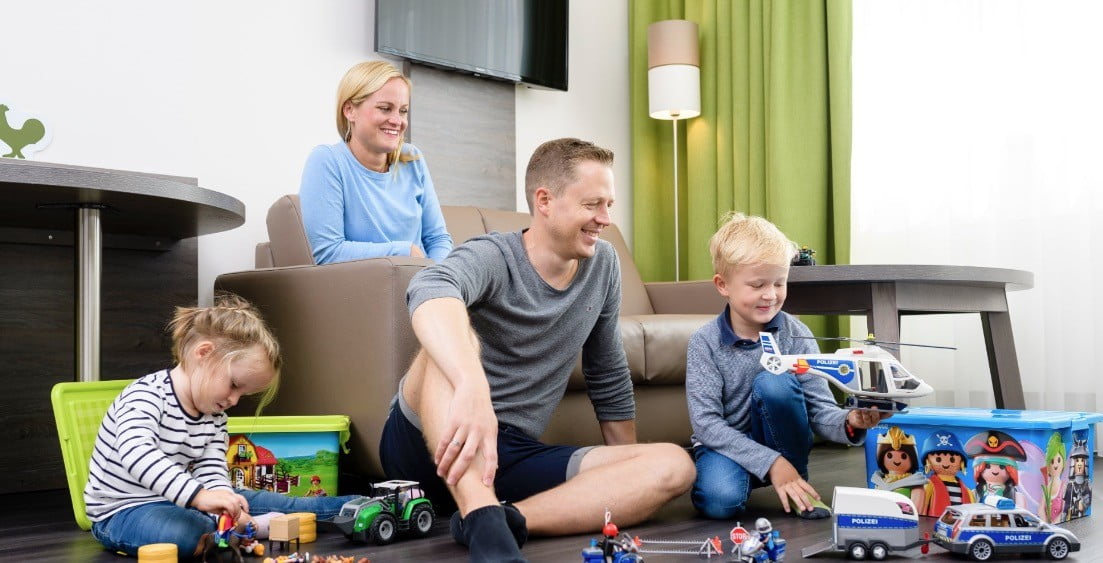 This hotel is perfect for the Playmobil toy lovers. This hotel offers a complete and unique experience in which you are submerged in the magic world of these toys.
It is located across the Playmobil Fun Park entrance and 13 km from the Nüremberg airport. It consists of family themed rooms and area for children.
More information: Playmobil Hotel
4) Hotel Royal Son Bou (Menorca, Spain)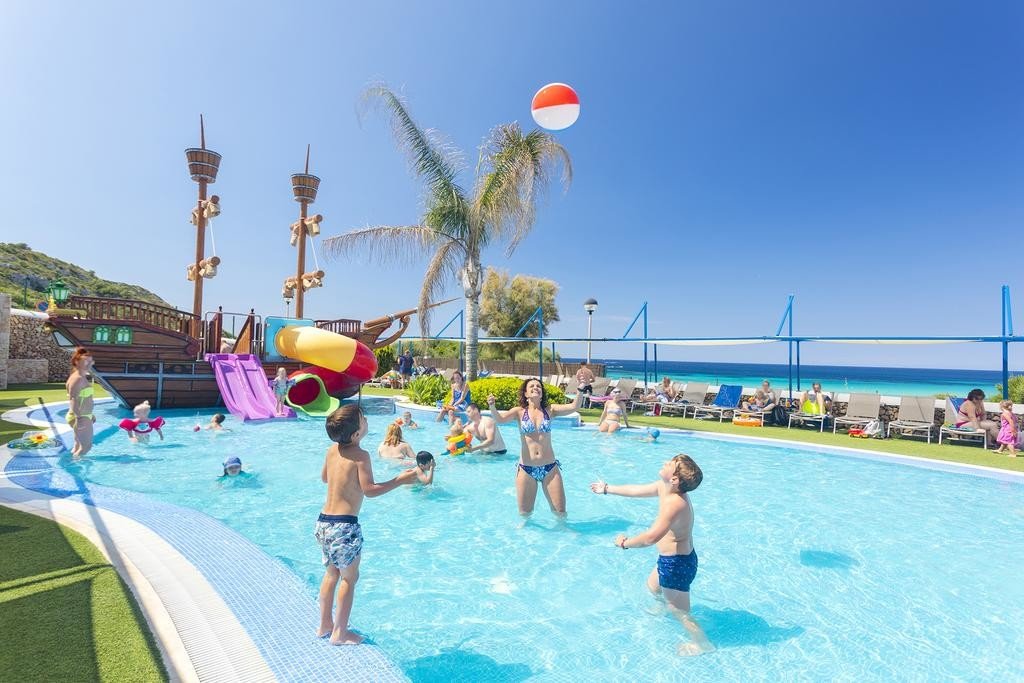 It is an all inclusive resort, where you don't have to worry about anything. Ideal for kids and located 100 meters from the Son Bou beach in Menorca. It offers a wide variety of leisure facilities and a daily entertainment program, with a staff that speaks several languages.
There is a large pool and a pool for kids, both heated by solar energy. The Royal Son bou also has a tennis court, a game room and large children's playground. The entertainment staff speak several languages.
There are two restaurants which have buffets with international cuisine. During lunch and dinner there is free nursery service, free booster seats, and plastic utensils.
The apartments have air conditioning, a balcony, a living room and a kitchen. They also include 2 TVs with satellite channels, a crib and a high chair.
More information: Hotel Royal Son Bou Family Club Menorca
5) Hotel Gardaland (Castelnuovo del Garda, Italy)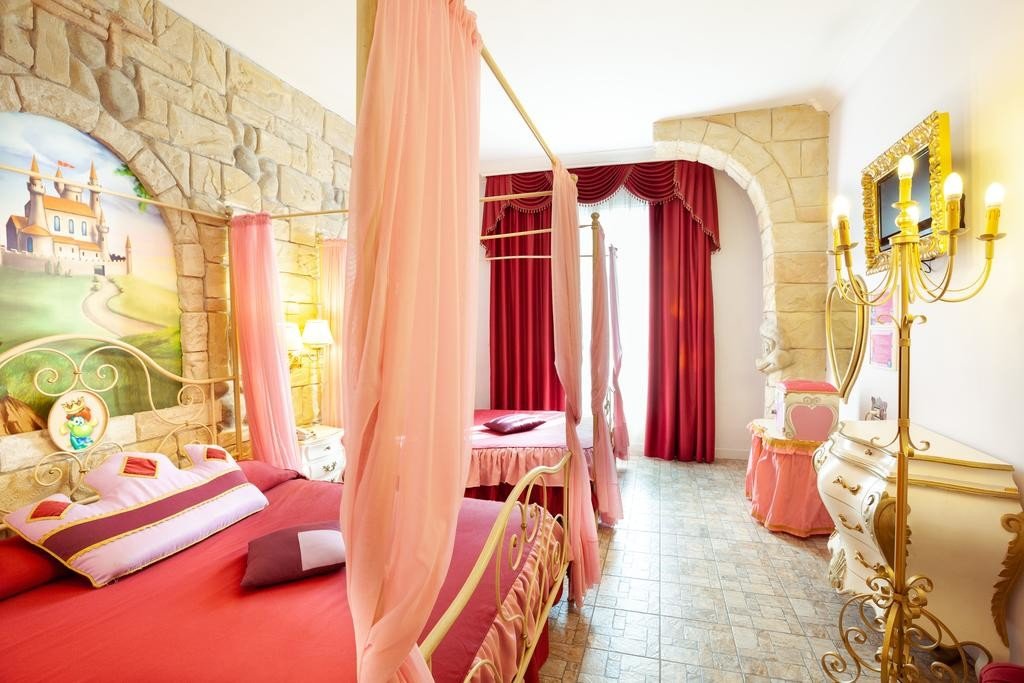 It is Located 2 km from Lake Garda and offers a free shuttle service every 30 minutes to Italy's most famous theme park, Gardaland.
The rooms which are inspired by fairy tales, are spread over 4 pavilions, decorated in light colors and equipped with air conditioning and living room area. Some rooms have a themed decoration and others overlook the gardens.
The 3.000 m² Blue Lagoon Water Park is open from the end of may to the end of september and includes an outdoor swimming pool with a large hydromassage area, waterfall, and a children's pool. Loungers are free and towels are available for a small fee.
More information: Gardaland Hotel
6) Hotel Stegerhof (Austria)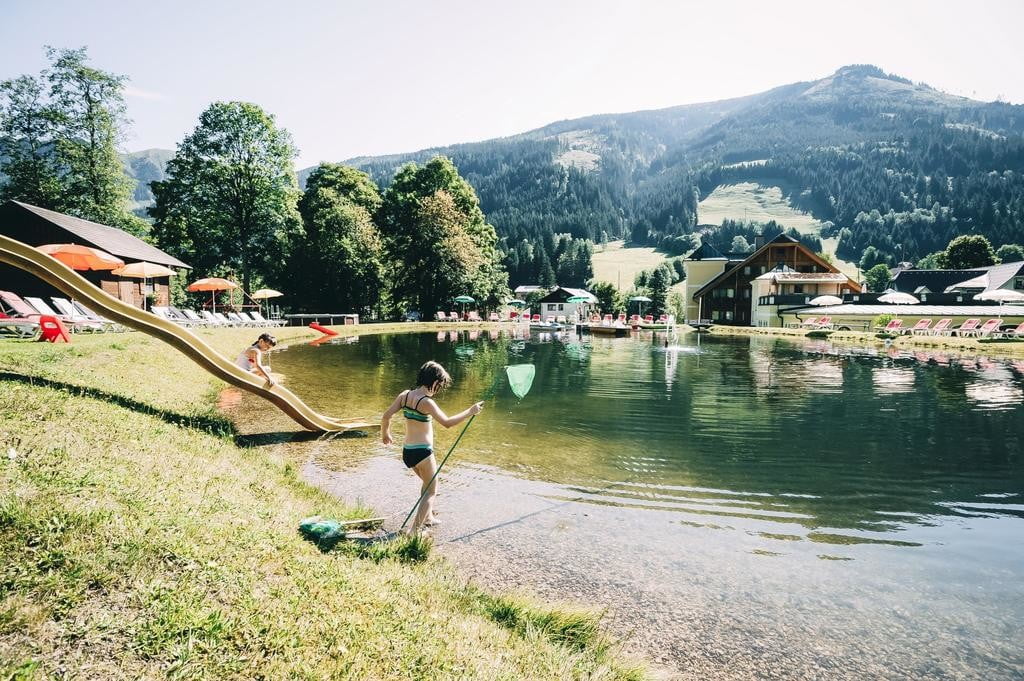 This hotel is great for children and is surrounded by a privileged natural environment in Donnersbachwald, Austria. It has a 5000 m² play area in and around the hotel, which includes a miniature farm, a natural swimming pond, an independent indoor pool for children with a waterslide and large natural spaces.
Among the activities available for the little ones, you will find: archery, themed dinners, bike tours, tennis, horse riding, bowling, hiking, darts, ping pong, and billiards.
The Stegerhof spa area has an indoor pool, Finnish sauna, steam baths, an infrared cabin, hot tubs, rooftop terrace and a cabin with an outdoor sauna.
In this four-star hotel, families find the perfect combination of tranquility and action during their vacation. And above all, time to enjoy nature and their children.
More information: Hotel Stegerhof
7) Cavallino Bianco (Ortisei, Italy)

It is a hotel specially designed for families with children. Nestled in the heart of the Dolomites, it is considered by some to be the best family hotel in the world. It has spectacular outdoor and indoor swimming pools as well as a variety of outdoor leisure activities.
Of course, the prices are quite high.
More information: Cavallino Bianco
8) Fodele Beach Water Park Resort (Crete, Greece)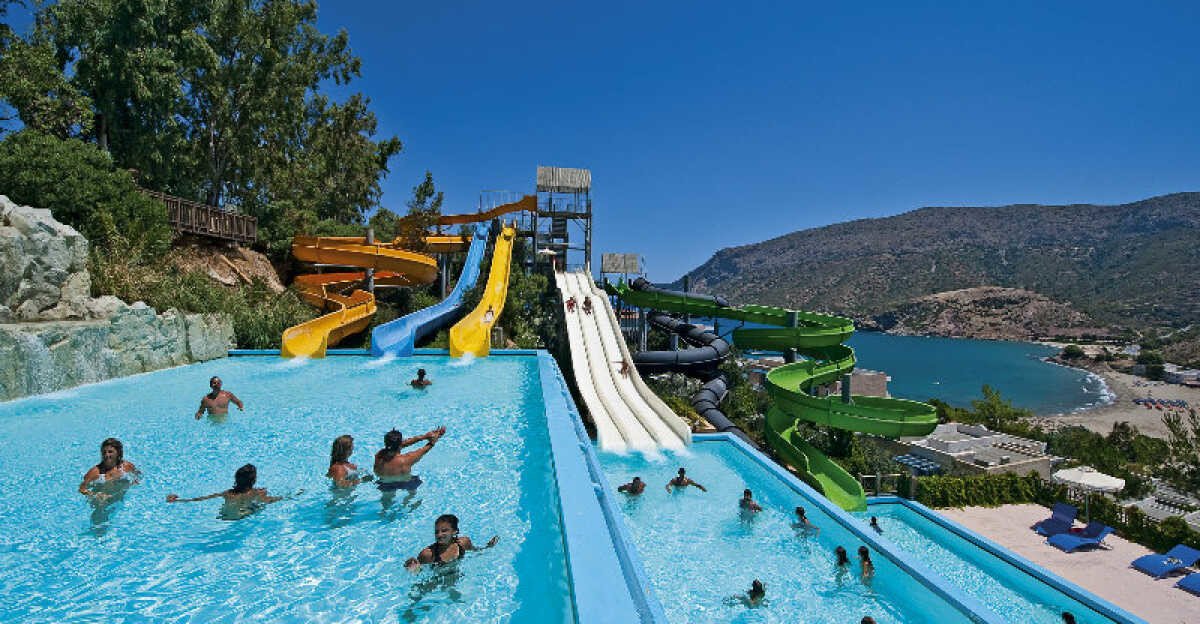 It is an all-inclusive luxury resort by the sea, on the sandy beach of Fodele, on the northern coast of Crete. It offers a water park, 3 swimming pools, 3 restaurants, meeting facilities, a tennis court and a fully equipped fitness center.
It is located in a privileged area by the sea, with many activities for children with entertainment during the day and night.
More information: Fodele Beach Water Park Resort
9) Resort Port-Bourgenay (France)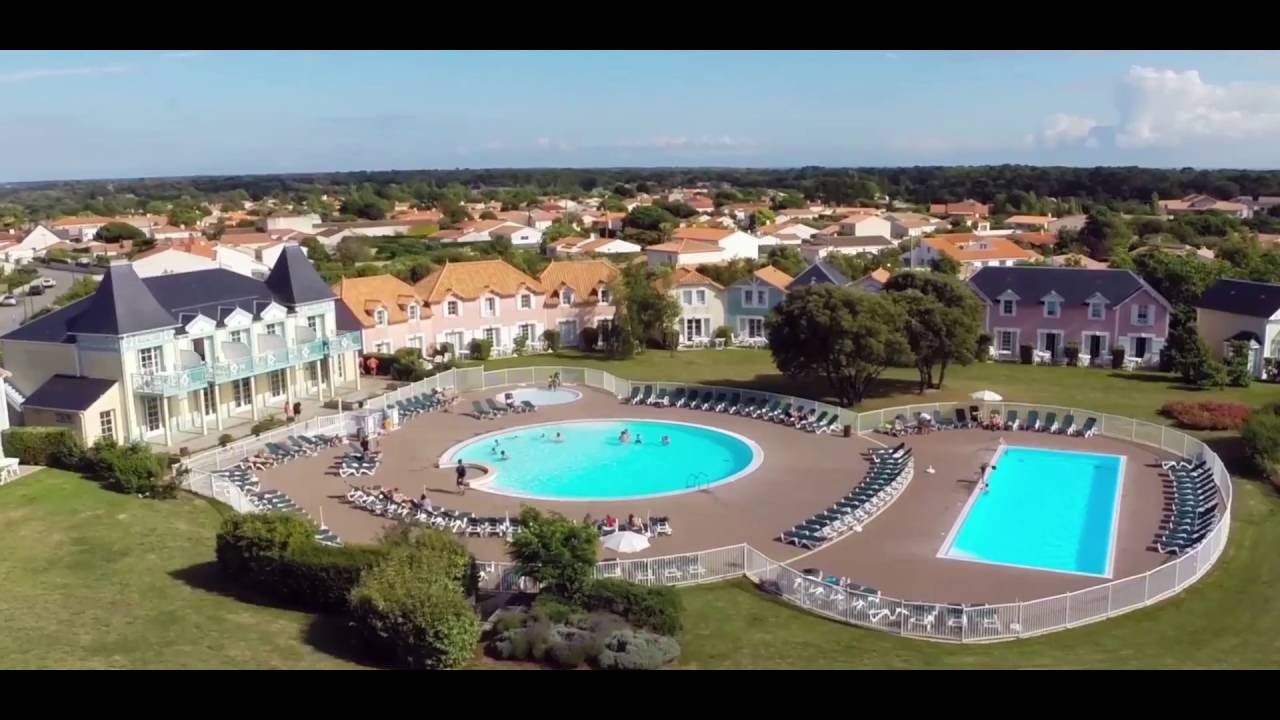 It is a resort from the Pierre et Vacance chain located on the shore of a lake and a few steps from the Bourgenay Marina and surrounded by 2 golf courses.
It features pastel color apartments and cottages, with a large aquatic space, and has a beach 1,5 km away accessible on foot, bicycle or a small train in summer. It also has clubs for children and teenagers, from 3 months to 17 years.
You can cool off in the three pools, go down waterslides, and the little ones can have fun in the children's pools and the aquatic games.
More information: Pierre et Vacances
10) Hotel Spa Princesa Parc (Andorra)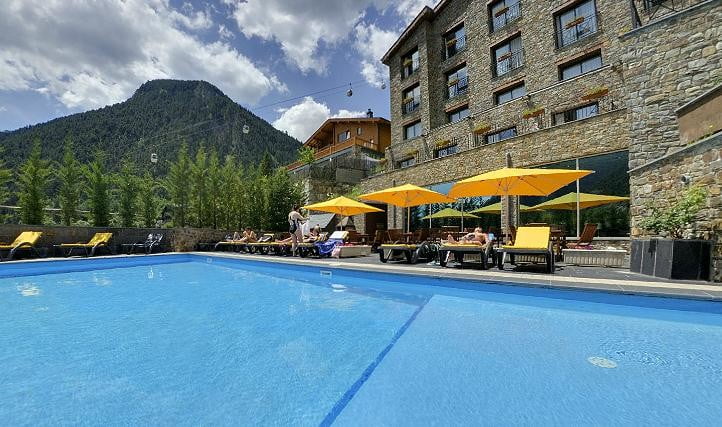 The Hotel Spa Princesa Parc is located near the Vallnord ski station and features an outdoor pool, a bowling alley and spa. It is located in Arinsal, only 100 meters from the cable cars.
In addition to the natural beauty that surrounds the hotel in the mountains, it has rooms with great capacity for large families.
You can go on bicycle or quad routes through the mountains, as well as mountain hikes or enjoy the best views from the chairlift. Inside the hotel there is a large play area and game room for the little ones, who can have fun while being cared for by the hotel staff.
More information: Hotel Spa Princesa Parc
11) Botel (Amsterdam)
If you want to live a different experience you can stay with the kids in a hotel-boat in Amsterdam. It is a simple three-star hotel but with everything you need to have a good time with your family.
A free ferry ride to Amsterdam Central Station, located ten minutes away, is provided for visits to the city. The ferry leaves twice an hour.
Guests have at their disposal a bar area, a pool table and video games. There is also a terrace.
It is located on the IJ river on the NDSM dock of Amsterdam. This is old shipyard has become a lively area, where festivals, events and markets are held. There are also restaurants, bars and modern buildings.
More information: Botel
12) Disneyland Hotel (Paris, France)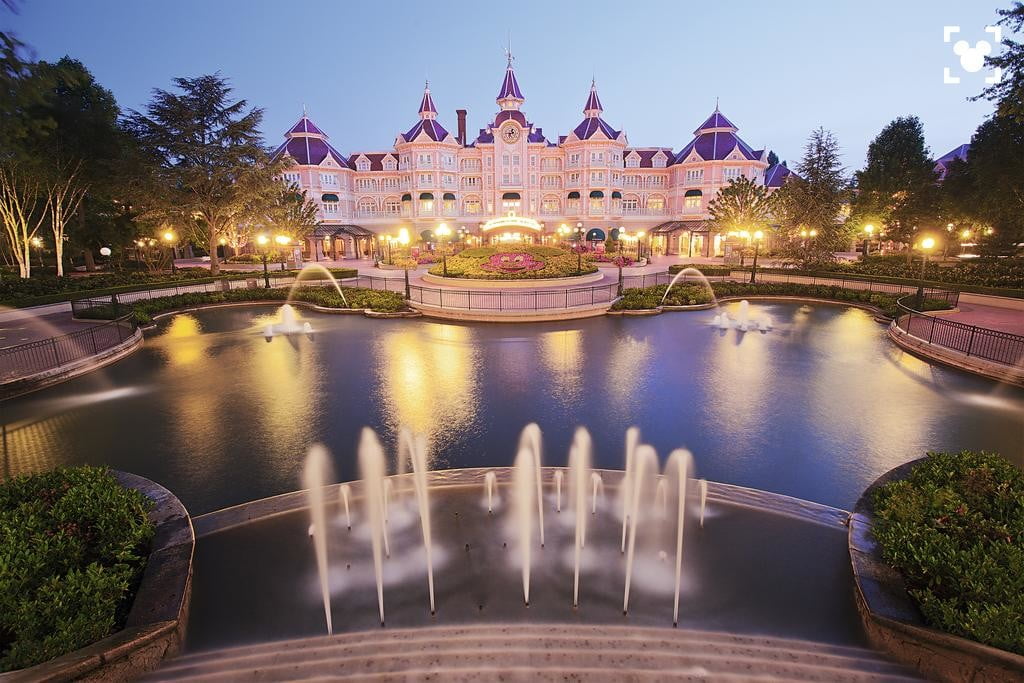 The Disneyland® Hotel is located 5-minutes away on foot from the Disney parks and the RER train station of Marne-la-Vallée Chessy, which, by the way, now has a direct connection from Barcelona.
This Victorian style hotel features a heated indoor pool, a garden and a terrace. There is also a free nursery, free WiFi and parking. Guests can even meet the Disney characters in the hotel.
More information: Disneyland Hotel
13) Les Cabanes dans les bois (Villalier, France)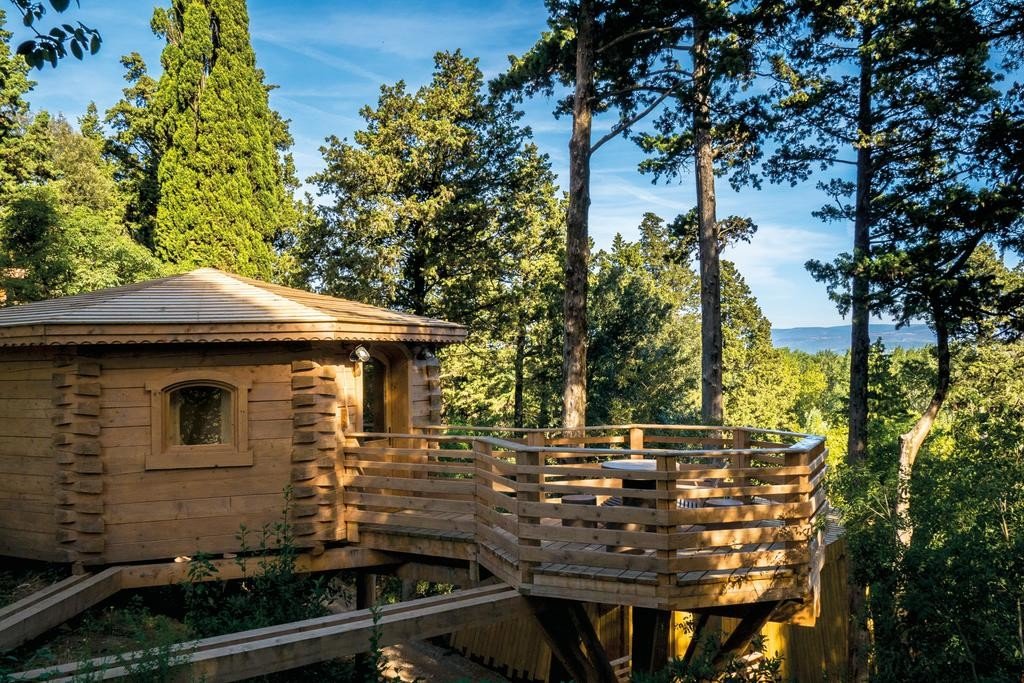 You can stay in a cabin in the trees in a spectacular forest in Villalier, 8 km from the medieval city of Carcassonne.
The rooms, that a can accommodate up to seven people are located in the treetops and are connected by narrow paths. They have mini bar, television, private terrace and bathroom with a shower.
More information: Les Cabanes dans les bois
14) Hotel Splash Landings (Staffordshire, United Kingdom)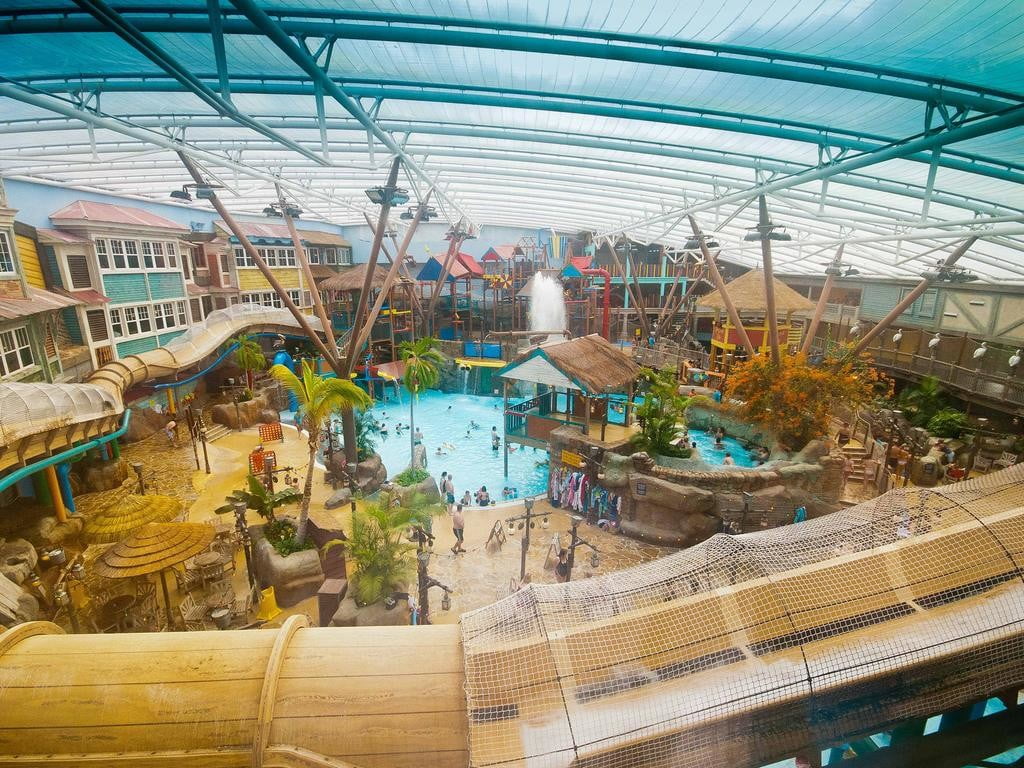 The Splash Landings Hotel is located in the heart of the Alton Towers Resort, inspired by a Caribbean city. On-site there is a wide range of roller coasters, indoor and outdoor water parks, attractions, nightly entertainment and unique bars and restaurants, such as the first roller coaster restaurant in the UK.
The monorail departs at regular intervals every day for free, with direct access to the theme park. Upon arrival you can buy tickets for the water park and the theme park.
More information: Hotel Splash Landings
15) Amadria Park Andrija (Croatia)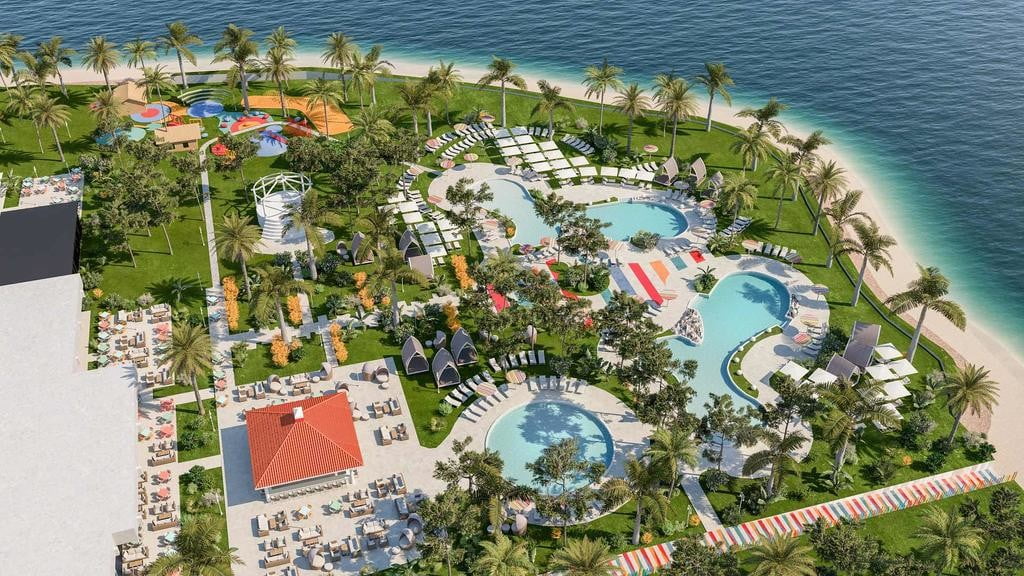 The hotel is surrounded by mediterranean vegetation and it is located in Šibenik, only 50 meters from a 4km long beach. This hotel features a restaurant, game room for children, an outdoor pool and a tennis court. It is also near the first water park of the Adriatic sea and numerous attractions.
The hotel's restaurant serves genuine Dalmatian cuisine and Mediterranean recipes and includes a supervised area for children with a small buffet and a children's menu. The hotel also has a free video game room and a separate bar for children that serves non-alcoholic cocktails.
This hotel has an interior and exterior design inspired by the seabed, with decorative elements such as mermaids, dolphins and sea turtles. It has family rooms connected to each other
More information: Amadria Park Andrija
16) Scandic Ariadne (Stockholm, Sweden)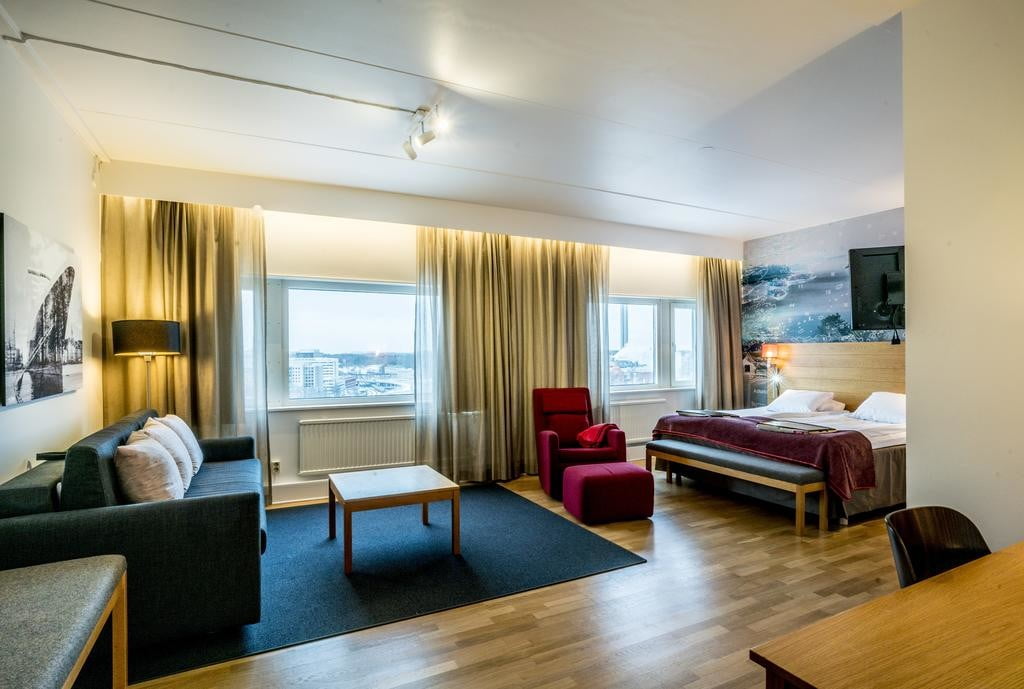 The hotels of the Scandic chain are specially designed for families traveling with children. If you are thinking of a trip to the Nordic countries, this hotel is located next to the Värtan ferry terminals, a 10-minute drive from the city center of Stockholm.
There is a local bus stop in front of the hotel that offers connections to the center.
The hotel is certified as an ecological hotel. Children receive a welcome gift, and they also have a playroom for children with toys and movies.
More information: Scandic Ariadne
17) Zafiro Can Picafort (Mallorca, Spain)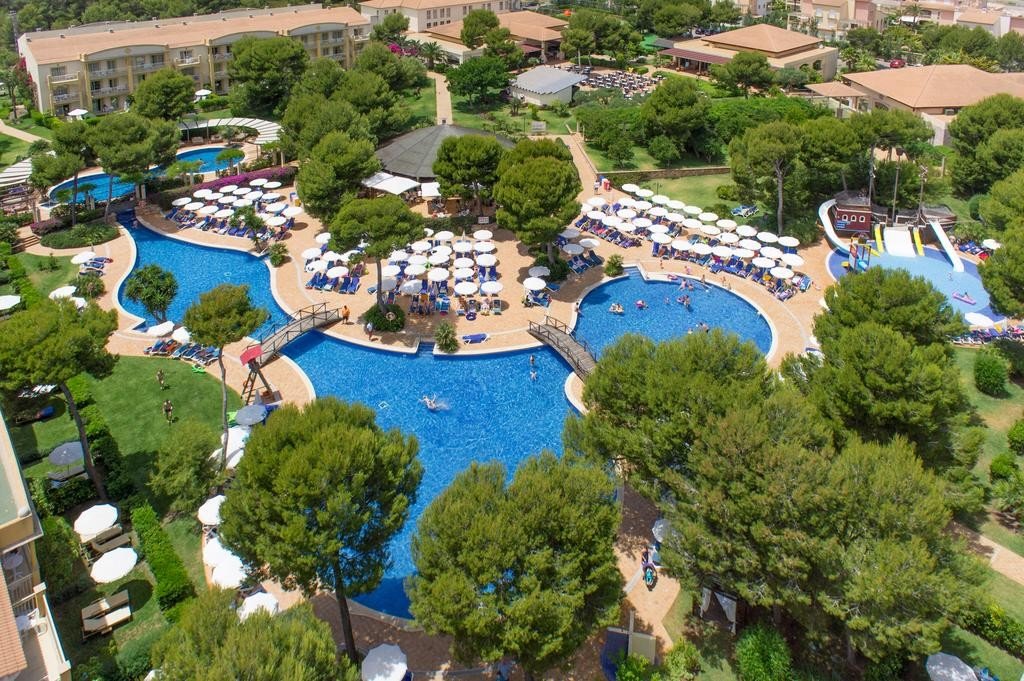 It is a hotel with apartments for families located 500 meters from the beach of Can Picafort, next to the S'Albufera National Park.
It has huge swimming pools for children and also an exclusive pool for adults, as well as a spa with sauna, hot tub and indoor pool, all free of charge.
It is surrounded by beautiful gardens, and in summer it has entertainment for the little ones.
More information: Zafiro Can Picafort
18) AquaShow Park Hotel (Quarteira, Portugal)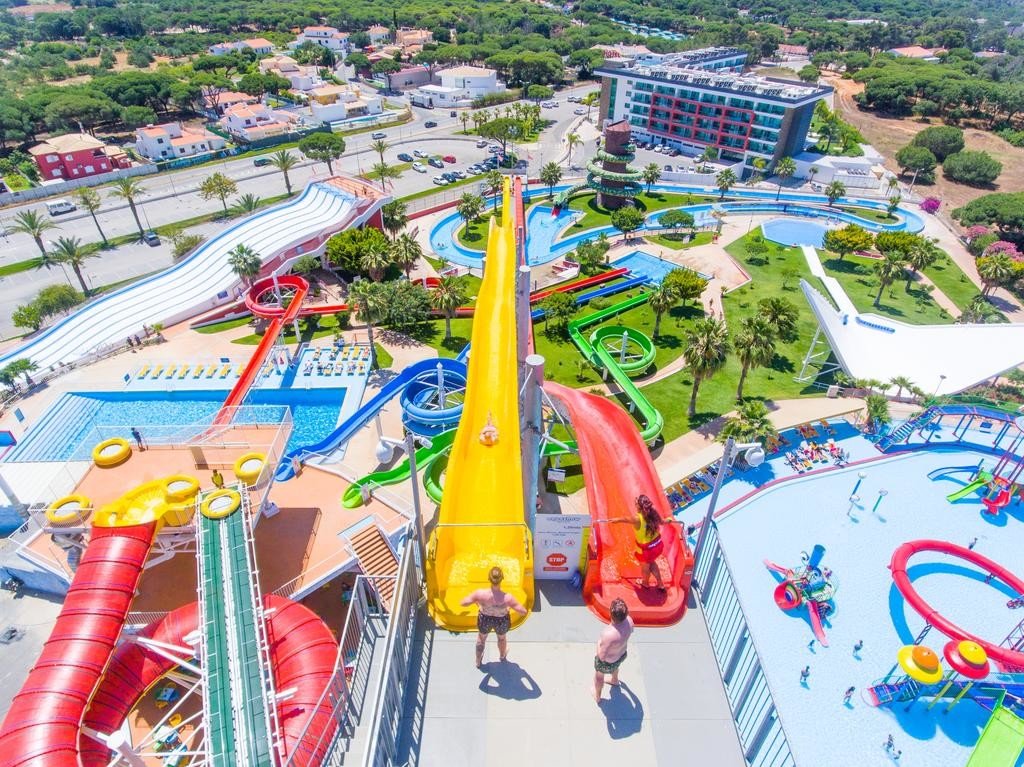 This four-star hotel for children in Portugal is located in Quarteira, next to the AquaShow water park, where you will have access to from the hotel between the months of May and September included. It is perfect if you are looking for a fun family holiday, as it has water roller coasters, slides, wave pool and endless facilities and services to have a great time. It also has a spa and wellness area, indoor pool, jacuzzi and fitness center.
With the all-inclusive option you'll have access to the two bars that serve a large selection of snacks, drinks and elaborate cocktails. It has an excellent rating and good value for money.
More information: AquaShow Park Hotel
19) Club Med Kamarina (Italy)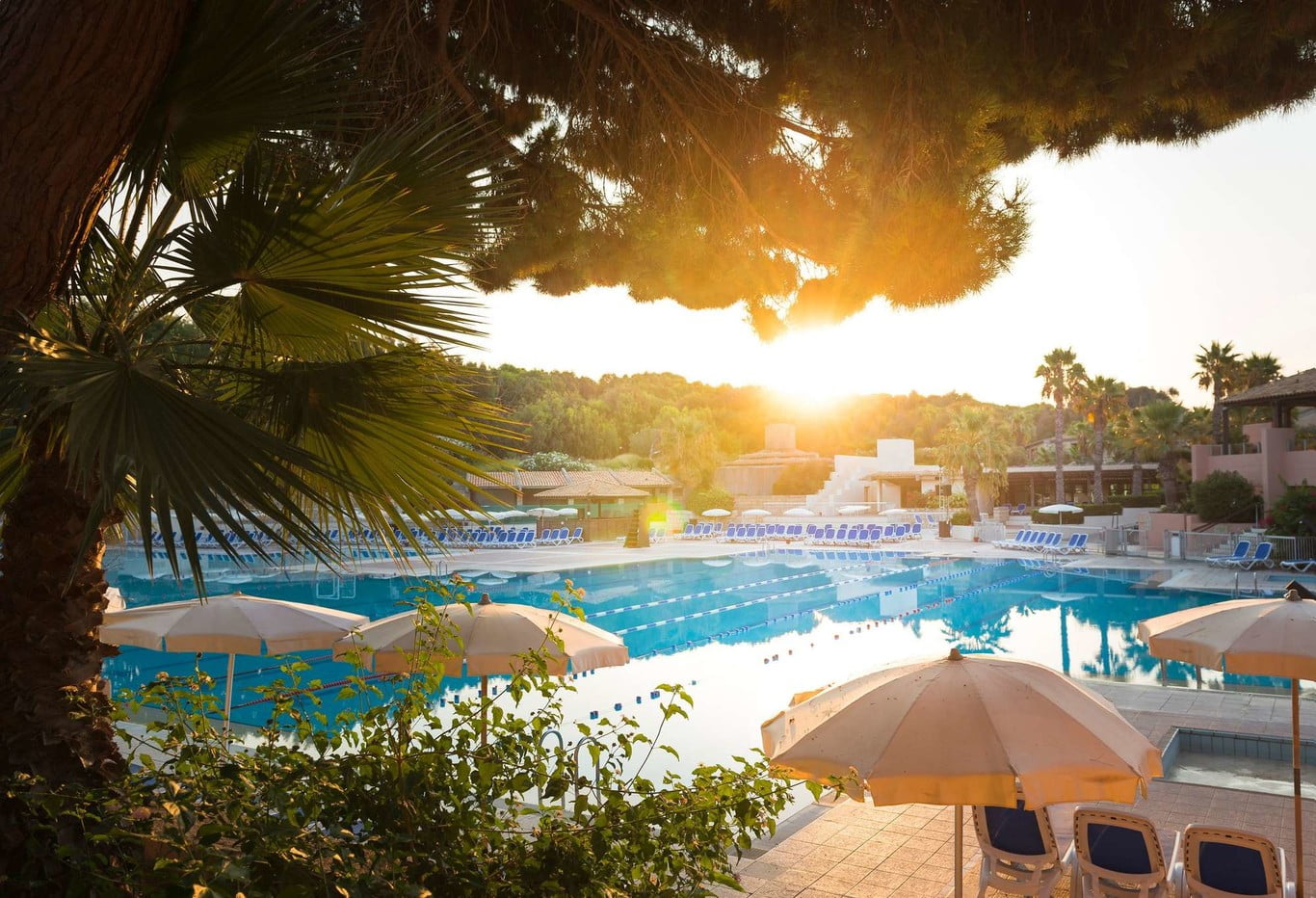 This large 96-hectare Resort ideal for families is located on the southern coast of Sicily, Italy. You can stay in the local stone bungalows, in the Villaggio area or in the rooms with a balcony of the hotel. Bougainvillea, olive trees and flower gardens are everywhere. It has Clubs for children from 2 to 17 years old.
It offers group classes for all levels of sailing, tennis, archery, flying trapeze, and many other recreational and sports activities. Free stay for children under 6 years.
More information: Club Med Kamarina
Source: Bebés y más