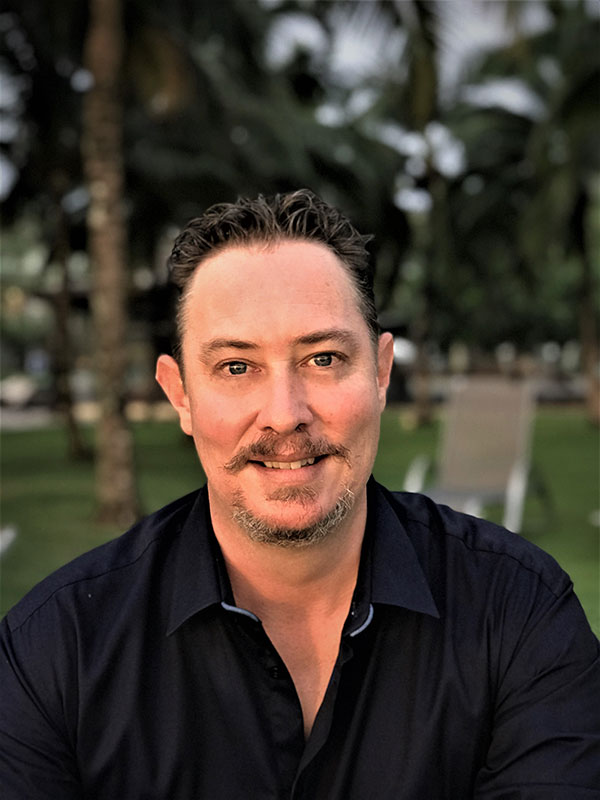 Waiter, lifeguard, children's assistant at Club Med, traveller, sailing instructor, sailor, concierge at Mövenpick, flight attendant, operations manager of a water park at Centara Hotels & Resorts or at the Ramayana water park. These are just a few of the activities carried out by Martin Côté, the professional we're presenting you in this new edition of our interviews. Today, as one of its founders, he works for Andaman Capital, an investment and consulting company related to hotel projects, entertainment, water and sports facilities.
Amusement Logic: Could you briefly explain to us that long and diverse professional journey, from waiter to founding Andaman Capital, and what has been the common denominator that guided you throughout your career?
Martin Côté: To start with, I was always, in any circumstances, able to rely on my parents to trust, support, motivate and help me. That being said, as far as I remember, I always wanted to be a PE Teacher. To be able to play the sports I liked, I had to find a job to pay for it. My first job was News Paper Boy at the age of 12. I started my lifeguarding & swim coach career at 16 and I am still working in the water sports industry today.
I left Canada in 1999 at the age of 23 and started globetrotting and looking for adventure. I've lived in Thailand for the last 12 years working to help design, open and operate the largest water parks in SE Asia. In my travels, I traveled to the USA, St. Lucia, Turks & Caicos Island, Cancun and Martinique. I also lived in Switzerland for a few years and had two backpack trips to Asia.
During that time I worked as, housekeeper in 5* hotels, bell boy, guest relations, PE teacher, flight attendant, kids club attendant, water sports manager, land sports manager, kindergarten teacher, recreation manager and Sports Club Aquatic Director.
In all those experiences, my years at Club Med were what really sparked my interest and gave me a lot of the knowledge to help me get to where I am today. Although the days were very long and you were always with guests 24/7, it gave me the opportunity to discover "The family life" of Club Med. It was really "The school of life" where I learned new languages, discovered the world, made friends for life, worked hard and met my wife. We can resume all my background in 2 words: hospitality industry.
A.L.: How was the experience in the operation of the water park at Centara Hotels & Resort, at Ramayana and at Blue Tree Phuket? What are the differences and similarities?
M.C.: When I was preparing the First Aid & Lifeguard program in Thailand, with the help of the Deputy Director of the Thai Red Cross ( when working in Thanyapura Sports & Leisure Club as Aquatic Asst. Director), I was approached by the Group Sports & Recreation Manager of the Centara Group, and he offered me a position as operations manager. I accepted with pleasure. It was my first "big role". I managed the Water Park, Sports & Recreation and Entertainment, and at some point a 160 room resort building.
After this role, I was prepared to do bigger operations. I met with one of the owners of Ramayana Water Park who came to Centara to see me in action. It seems he liked it. I started a few months later 1,000 miles away from Phuket, in Pattaya, Thailand. I was heavily involved in design, construction, pre-opening and operations. I loved it and finally found my calling and niche in life. It's what I love to do and plan to spend my life learning and creating resorts, water and theme parks across the globe. I am currently working with a group of top professional designing, funding and building World Class Water Experiences in several locations on the West Coast of the USA.
I believe that I have a guiding angel looking over me. It is all about being at the right place, at the right time, doing the right things. In Ramayana, I have met with many future Park owners that came down to look at the final and operational product. It gave these (future) owners confidence that I could help them with their dream. I decided to become a consultant and worked on some projects with private owners. I had a blast!
During that Period, I met with the Managing Director of Blue Tree who offered me the job consultant then the Management of the project. It was a great project and an even better learning experience. I was able to contribute to the construction, pre-opening and operations. I was finally able to put one of my dreams together which was a mix of Club Med & water park combined experience: Slides, sports, fun & entertainment all day.
Remember when I said that It is all about being at the right place, at the right time, doing the right things, I was right. I met my business partner at Blue Tree whilst presenting an Indoor snow world and my investment partner when he was visiting Blue Tree showing my project to a future project owner from Japan. Life is full of surprises!
To conclude, Thailand has been great for me in terms of getting things done. That being said, there are some differences in culture that you must overcome. One of the 2 things I heard and had to manage and find a way to succeed with was:
"Prung nee" boss: Tomorrow boss. "Mai pen rai Khun Martin": No problem, Mr. Martin, it is ok like that… when it was not.
The other topic I must discuss here is the training. In the other part of the world, most people are already trained in Lifeguarding & First aid before they get hired. Here, we need to find the right people based on their good attitude, mind openness and the will to learn. Then teach them all the skills and knowledge they must acquire to do one of the hardest jobs: Saving lives. I should say PREVENTION is the key word here. So, training is crucial.
The difference between each project and operations was obviously the size of the project becoming bigger. I became, over the years in Thailand, better and experienced in operations. The "plus" was that every time I had a new project, I was able to gather all the best employees in each department and bring them to my next project. It is all about teamwork.
For all the Operators out there, you will always have some Owners/Management that want to have the most beautiful project that operates at lesser cost. Beautiful is great but if it is not safe, or something seems off, you must speak out and ensure that all safety precautions are respected and put in place. Even if that means the owner will not agree and you could lose your job, you must be firm and explain that safety is of the utmost importance and you will not accept anything else. No loose end. Record everything on paper & CCTV and train your teams on each SOP.
We have a mindset that starts and ends with the customer – will they complete their guest experience with fond memories and a desire to return. Every guest lets us know we did well if they leave with a smile.
A.L.: What are the characteristics that a project must have in order to be successful? Or, in other words, what would you recommend to a developer who is thinking of developing a leisure project?
M.C.: Always keep safety & the end user experience in mind, call it balance and focus, balance the amount of fun and keep the focus on safety. Balance and focus also for the sponsor, the area, and project budget. Do the homework and it will dictate what you should do – then all you have left is figure out how. Do all of this and remember in the end it is the guest that will tell you if you got it right.
A.L.: Which are the most outstanding projects in which you have participated with Andaman Capital and how did the work develop?
M.C.: Andaman Capital itself is quite new on the market. So in terms of Andaman Capital most outstanding projects are still on paper and developing stage as we speak. There are a few we are working on at the moment which are based everywhere around the world, from the USA, Canada, Africa, Philippines, Vietnam and Papua New Guinea. With my new partners at Boutique Hospitality Partners, I see several new exciting opportunities presented to me. We now have the ability to take projects from concept to completion in-house with strong expertise in all areas that are needed to be successful in the process.
That being said, with the experience, relations and contacts I was able to forge during the last few years, I was able to partner with the most professional people in the industries of finance, construction, Park theming, operations and management. All together, we have an incredible pedigree and project completions based on each individual success. It goes from Atlantis Dubai, LegoLand all the way to Disney Shanghai, Laguna group and of course Ramayana & Blue Tree, just to name a few.
A.L.: You know the public in Thailand very well, and you have also worked in places like America, Europe, Asia: what are their specific characteristics?
M.C.: Each location has specific operations procedures and ways of delivering guest's experience. However, wherever you are in the world, you will always work with an international guest environment. You must learn and teach your employees how to act and react to the different ethnic & religion standards. Read and know how American, European (French, Italian, English, German, etc.) Chinese, Thai, Vietnamese and Australian behave. Learn languages and always respect and talk to the guests the way you would like to be talked to. Know that not all cultures & religions shake hands, hug, touch each other or touch the children's head, wear the same type of swimsuit…etc. The world is full of contrast & distinction. We sure all must try to respect everyone in their beliefs and way of living.
A.L.: How do you see the future of the leisure, entertainment and hospitality sector?
M.C.: At the moment, people in many countries are facing the impossibility of going on holiday, having parties, or doing any activities. In my opinion, once there is a more stable environment, people will rush out and enjoy their "freedom". There will be a BOOM in the Hospitality & entertainment sector. That being said, there seems to be a blend happening, where the guest can experience virtual physical reality at the same time and feeling the real sensations in rides and experiences. I was talking to a friend in the Asian market not long ago, that was working on a concept to blend the virtual rides and park experience and carrying it through the overnight stays. So basically, you check in to the hotel and check out of your current world, to be immersed or transported to the new virtual reality. As you know the more of your senses that you have involved, the deeper you will buy into the reality of the moment. It was kind of a fun thought of what could be experienced if all your senses could be brought into an almost complete departure from the real world and engaged in a virtual /conceptual new reality, to the extent of overnight stays. The future is full of fun and great times! But remember: Life is Full of Surprises!