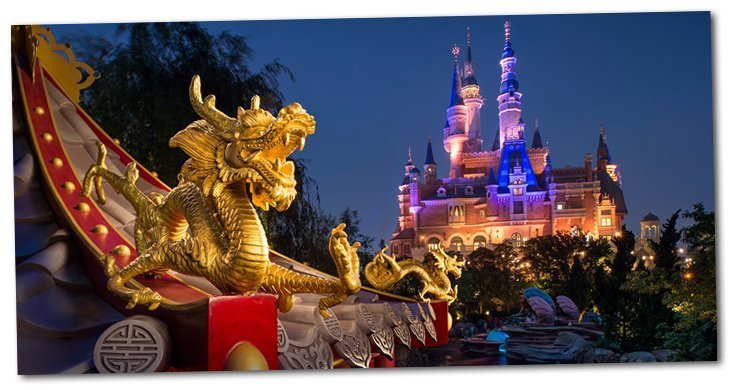 In our recent Newsletters we've talked about the theme park boom in China. Now we're going to compare the two industry giants; Disney and the billionaire, Wang Jianlin's Wanda Group, which has just made its debut in the country, with new theme parks. The battle between these two rivals is getting exciting.
Disney has just opened its $5.5 billion park in Shanghai and it has 6 resorts around the world. Wanda has opened its first theme park, Wanda City, in Nanchang, which cost $3.2 billion and it has just announced plans to build 15 new leisure complexes for 2020.
Disney was much more expensive to construct, it is much bigger and the entry tickets are almost twice the price. Disney Shanghai has 963 hectares, doubling the size of Wanda City's 494 hectares. Disney's annual capacity is estimated around 15 to 30 million visitors and some 10 million for Wanda City. In regards to hotel rooms, Wanda City has 5 hotels and Disney has 2. Both have a wide range of attractions, star-attractions and around 50 restaurants and cafés. Disney has hired 10,000 employees and Wanda, double that. The price of Disney's entry tickets is approximately $56, compared with the $30 to get into Wanda City on a normal day.


Shanghai Disney Resort has the largest castle that Disney has constructed and a Broadway theatre where the Lion King musical will be play for the first time in Mandarin. Wanda City has a spectacular exterior with giant blue and white china teacups and a Cineplex with an audience capacity of 3000 people and the largest Ocean Park in the world.
Given the distance between the two parks, they don't directly compete with each other. Wanda City is some 750 kilometres away from Disney, which is too far away for the metropolitan residents to whom Disney is aimed.
Both parks have a great deal to offer and with China's large population, there is sufficient space for the two theme park competitors to prosper.