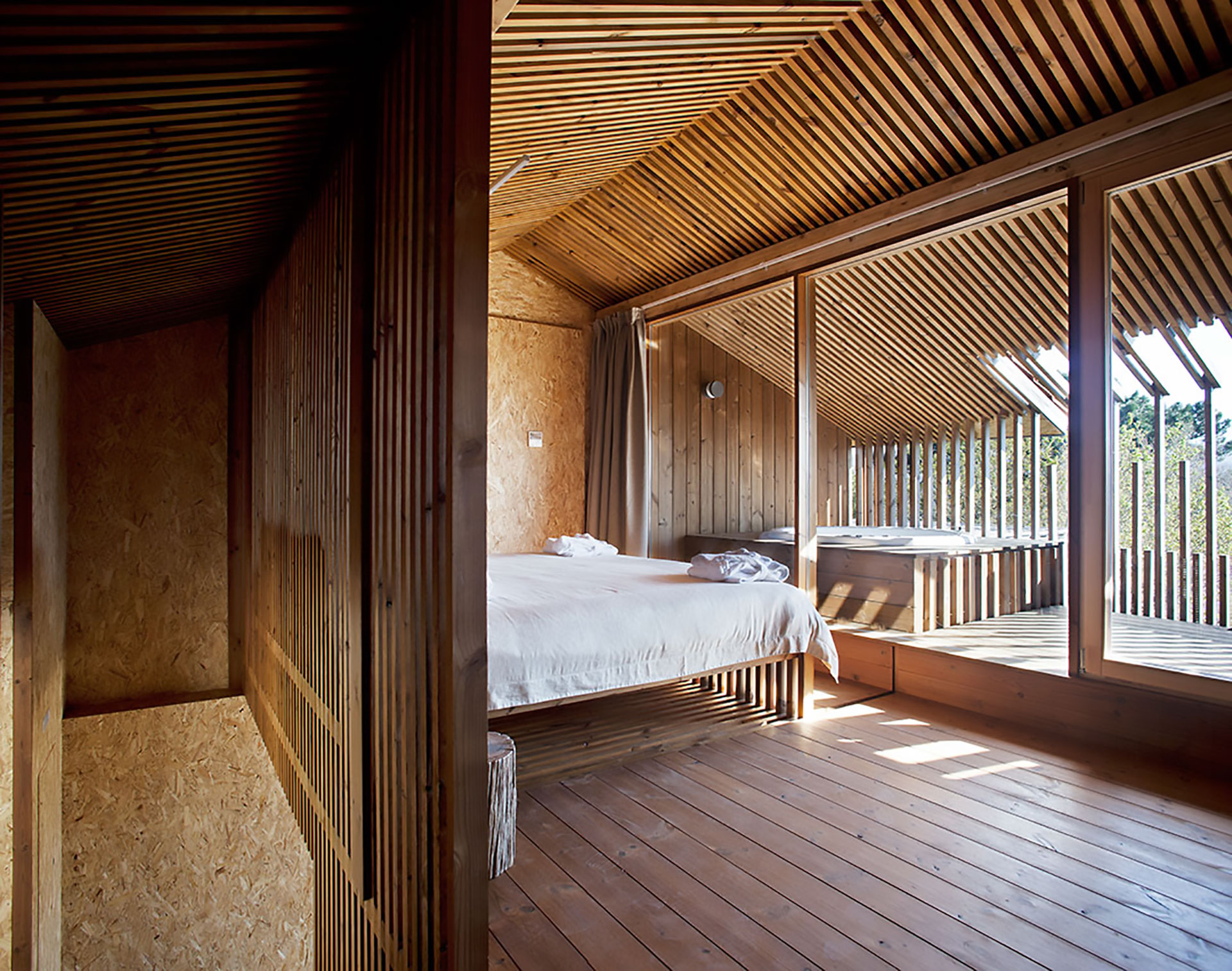 9 wooden cabins and 3 pre-existing preserved and rehabilitated buildings; this is the architectural project that has been recognised with the Architecture and Urbanism 2020 prize by the Spanish Higher Council of Architects' Associations (CSCAE). In the words of its jury, the complex deserves this recognition for its "great musicality and permeability", as well as for its use of resources "that generates a possible and sustainable architecture (…), with a minimal implantation on the terrain". It is located at the source of the Ría de Muros y Noia, in A Coruña, overlooking the mouth of the river Tambre. The tourist complex respects the local vegetation, minimises the impact on the environment and offers a harmonious relationship between the different elements, so that they enrich each other.

The project architects Alfonso Salgado Suárez and Francisco Liñares Túñez, point out three stages in the conception of the tourist complex:
-During the first and most general stage, they set out to maintain the intimacy of each building without renouncing the beautiful views over the estuary, the mouth of the Tambre and the Barbanza mountains, the backdrop to the complex.
-The second stage led them to exactly define the new buildings, as well as "their precise location", with the utmost respect for the flora and the traditional buildings with which they were to coexist and dialogue. As a result, raised on the gentle slope, "the light wooden structures rest on the land, avoiding the roots of the trees". At the same time, they specified the heights of the structures and the access routes to them.
-The third stage led them to choose the construction solutions. They defined both the exterior timber framing and the interior details, including the furniture, in a chain in which each step "insinuates itself in some way into the previous one".
The result is a tourist complex full of harmony and lightness, whose presence in the surroundings goes almost unnoticed, promising future guests a relaxing stay in communion with nature. In short, it is an intervention that responds to the architectural values of sustainability, with the optimisation of resources and the balance between tourism, tradition and natural order as the axis around which everything else revolves.