Located in the town of Mogán, on the south coast of Gran Canaria, Hotel Riosol is a hotel complex with more than 40 years of existence. It rests on the slopes of a mountain of solidified lava, almost 200 metres above sea level. In 2018, it underwent rehabilitation and amongst other renovations, it replaced the old funicular with a new one, designed by the Navarrese architectural studio Atelier Lopez Neira Ciaurri. Well, this device designed to overcome the great difference in levels and allow access to the different hotel floors, has been given the International Annual Project of the Year 2020 award, for the best cable car in the world.
The prize, considered one of the most important in the transport sector and mobility in architecture, is awarded by the prestigious specialised publication Elevator World, in its 22nd edition of the contest. The remaining award-winning projects give an idea of ​​the award's importance: the rehabilitation of New York's Empire State Building, The Vessel structure by Thomas Heatherwick, a new icon in the same city, or Singapore airport from the Safdie Architects studio.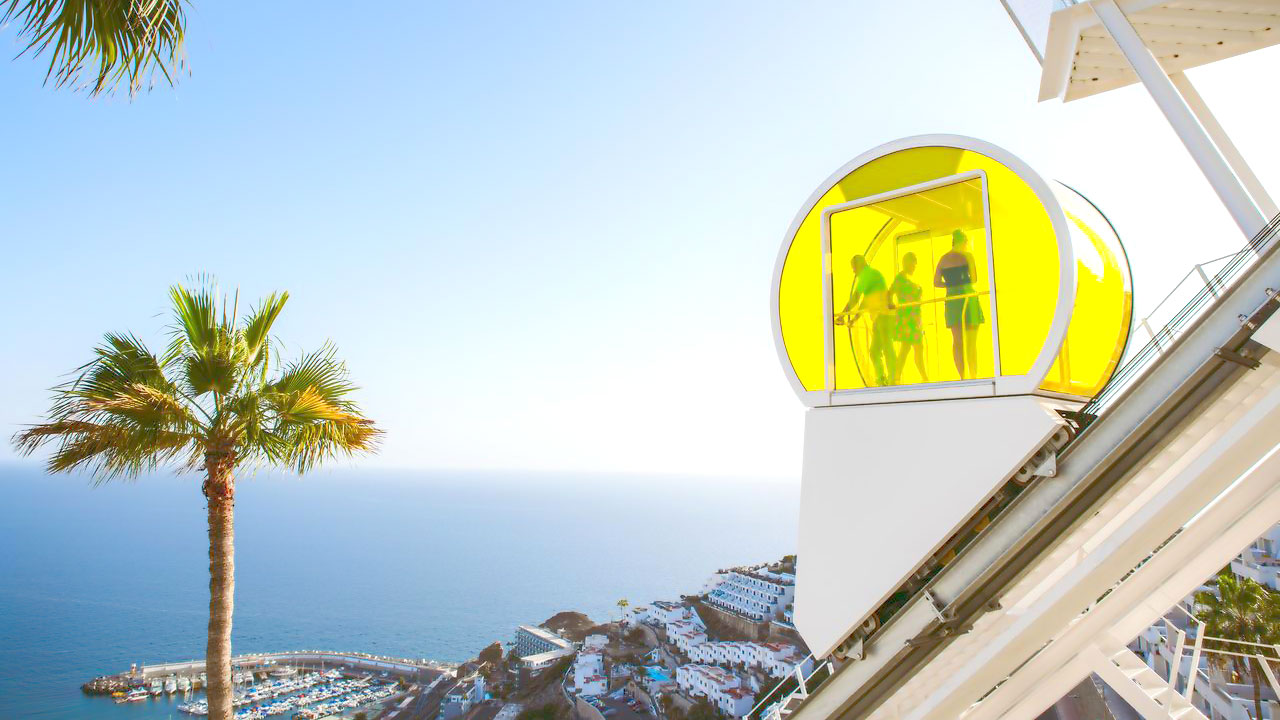 Hotel Riosol's funicular is composed of two circular cabins with transparent walls, which allow panoramic views over the Atlantic Ocean and the Bay of Puerto Rico. They run along a 42º slope and have a capacity for 20 people or 1,500 kg. The project was born, according to one of its architects Ramón López-Neira de la Torre, "with an ambition not to fall into the most pragmatic logic and rationality", and also, to "elevate strategy and poetry in equal parts, in the sense that (…) not always is (…) the most economical and practical solution the best and most profitable". In any case, as well as responding to a surprising and daring design, vaguely reminiscent of an insect's structure, the cable car guarantees universal accessibility to the Hotel Riosol.
Sources: Tourinews, Faro de Vigo, Diario de Navarra, Elevator World, Riosol Hotel.