In Amusement Logic we have a specialist team experienced in the design of immersion zoos. These are zoological parks in which the animals are exhibited for the public in habitats that are highly similar to their natural ones, but without visual barriers so that several species that cohabit in nature, can do so without risk for themselves or the visitors.
As well as physical risks, the species can also be faced with mental risks, which are what lead to what is known as stereotypies. Stereotypies are aberrant behaviours such as apathy, being overweight, self-injuries, compulsive movements, coprophagia or uncontrolled aggressiveness. Below we will illustrate an example of how to avoid a stereotypy through the careful design of an immersion zoo.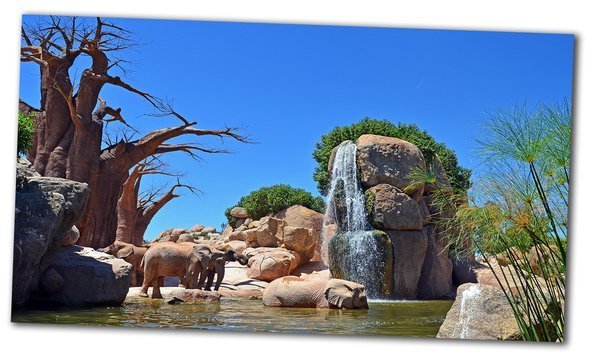 A problem that is usually found in large primates is excess weight. In many zoos, large primates can be seen with plump bellies, which people often find funny.
What people don't see is what this image really hides. This animal probably finds itself in a facility where there is no element that allows it to do the exercise that the members of the same species would do in nature and is subjected to feeding that is inadequate for the species, (quantity, quality, variety). This physical state is damaging to the animal's state of health, as it often leads to life-threatening cardiovascular incidents.
The solution that immersion zoos provide, is that thanks to the complete recreation of their natural habitat, these animals have all the elements required to do exercise that is habitual for their species, such as:
▪ Real or simulated vegetation
▪ Different levels within the facility
▪ Versatility to spark interest and movement of these animals (creating curiosity in individuals that encourages movement)
▪ Adequate feeding presented in a proper way
Taking these parameters into account in Immersion Zoos, means that animals get to exercise as they would do in nature and have their correct weight. In a proper habitat, they will have complete physical and mental development.
By combining knowledge of architecture, biology, engineering and design, we are designing the new zoo for the Russian city of Perm. Visitors will voyage through a series of areas that faithfully reproduce the natural habitat of each species, from the African Savannah to India. All of this with the sincere intention of providing the best environment so that visitors can enjoy the experience of seeing the species housed there, developing a healthy and full life.