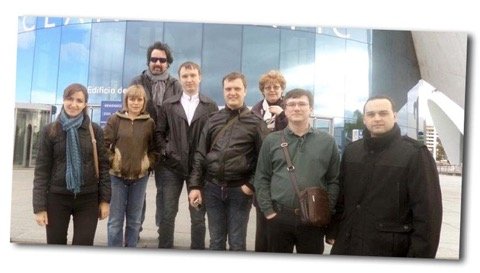 At the beginning of February, a delegation from the Russian city of Perm visited our facilities in Valencia. The reason behind the visit was to review the project progress of the new zoo that we are developing in collaboration with one of the main local architectural studios, to approve the latest delivery of documentation and to see first hand examples of immersion zoos or Bioparks.
The delegation was composed of the government representative of the region of Perm, the project's Director, an architect and engineer from the local architectural studio and the Scientific Secretary of the city's current zoo. After several days of intense work undertaken in our offices, the delegation decided to approve the documentation presented by our specialists and start the next phase of the works program.
To see the vanguard concept of immersion zoos (Bioparks) in depth, we made several visits to this type of park in Spain, as well as the Oceanographic Park in Valencia, projects that were executed in their day, with the direct participation of Amusement Logic and our best specialists.
According to comments made by our guests, this work trip was a true revelation, as they could directly contemplate and study the operation of modern animal parks. They could experience how visitors are literally plunged into the world of wild animals.
They fully understood the statement from the World Association of Zoos and Aquariums (WAZA) that stated: " it is no longer intended to show animals individually, (19th century), nor an animal in its habitat, (20th century), but to show entire ecosystems". What is known today as an immersion-zoo.
To achieve said objective in Perm's Biopark, Amusement Logic is developing the project so that each animal species may maintain its characteristic social structure, (in pairs, multifamily groups, etc.), and so that it has all the necessary elements; for example caves, branches or pools, in order to develop natural behaviour. The public will feel as if they have been transported to the animals' natural habitat, walking around as if on an excursion, on winding paths and surrounded by rocks, trunks or plants. They will stroll around environments where the barriers with the animals are invisible or imperceptible, with the unsettling sensation that these barriers in reality do not exist.