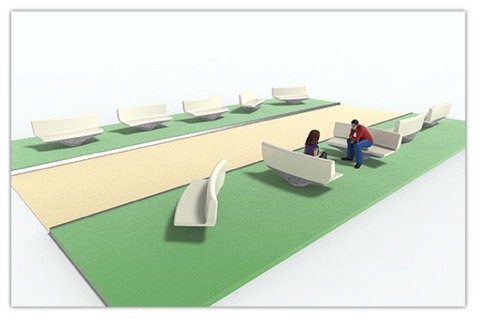 We're presenting a new concept of urban furniture, for plazas, gardens or any kind of promenade: the swivel bench, Parenthesis.
The bench's central axis allows it to be turned in any direction, thanks to an exclusive swivel system. Users can sit however they wish in regards to the direction of the sun's rays, to read, sunbathe, watch over their kids or simply to enjoy the surrounding landscape.
Parenthesis is designed as a three-seat bench and it has two types of curve: one slightly convex and the other concave (like these punctuation marks). This allows for the gatherings of larger groups of people and also, professional landscapers can create different undulating patterns in their designs.
Manufactured in weather-resistant and anti-vandal materials, it permits different finishes and colour schemes of the bench seats and backs, on a swivel base moulded in concrete. The version with arm-rests integrates a sunshade that turns with the bench.