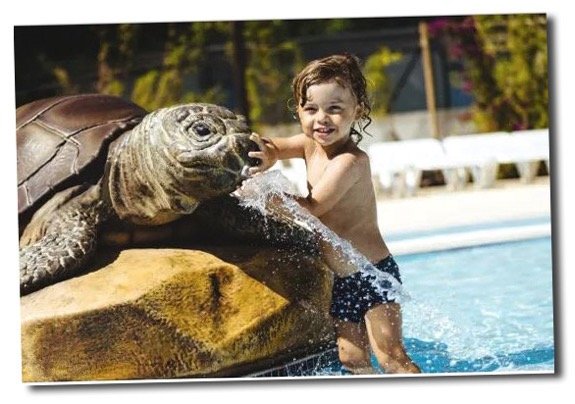 Le Dauphin campsite, situated in Argeles sur Mer, France, has also assigned Amusement Logic S.L. to improve its leisure facilities this season.
Located in a privileged environment, but also a highly competitive one, the campsite already had extensive and modern aquatic facilities for its guests to enjoy. However, the management team sensed that a children's pool was lacking, in order to complete the family activities on offer.
It's well known that a campsite is a holiday product predominantly aimed at families and therefore, all family members should find entertainment, fun and recreational activities in the campsite.
Of course, a children's area does not just consist of a small, shallow pool. Times change and clients are increasingly better informed and demanding, and the companies that wish to survive should adapt, or even anticipate these changes.
The current children's areas include leisure equipment where children can play, let their imaginations run wild in a themed environment, and develop their motor and social skills in safe and attractive facilities.
A good example of a children's pool, is the one we have developed in Le Dauphin campsite. Using the name as a theming guide, we designed the pool creating a story around dolphins, other friendly marine animals (turtles, starfish) and a pirate ship. The result is spectacular, both aesthetically and functionally, and from the first day that it opened, kids have been waking up asking their parents if they can go and play in the dolphin pool.
Oh to be a child again!