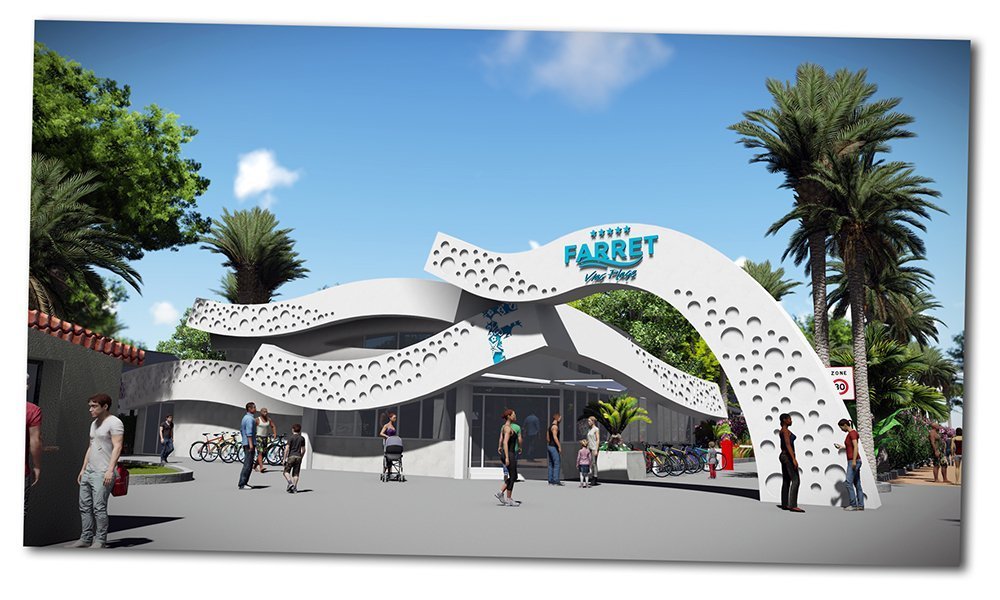 We are currently in the construction phase of an architectural project for the Camping Le Farret in Vias Plage, one of our clients in France. The project features the Campsite's reception and access building, the image that is projected by the Campsite, with its name and logos included on a large arched structure.
When dealing with an architectural project, in Amusement Logic we research and design appropriate solutions involving a creative vision that reaches beyond traditional formulas.
The conceptual keys of this project are:
1. The commitment to expression-laden dynamic shapes which are unrelated to classical canons and that above all are heedful of the context in which they are incorporated and embrace symbolic references.
2. The composition of the different shapes shows a bold and elegant dynamic tension. This is appealing to onlookers who immediately understand that they are viewing a unique architectonic structure, not a traditional aesthetic solution. An example of the sophistication that is characteristic of contemporary art.
In its formal complexity, the refined lines of the building are indubitable signs of a quality, cosmopolitan and distinguished design, whose mission it is to offer the first visual impression to campsite visitors, improving its image. The composition on different planes, is inspired by sea waves, with circles that are reminiscent of the foam.