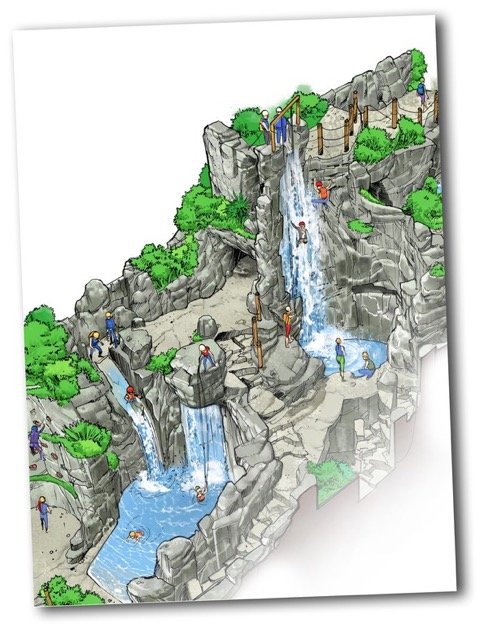 We are using this forum to reveal a new project on which we are working: an indoor Canyoning in the French department of the Maritime Alps.
As you all know, for Amusement Logic the dedication to new projects and concepts is a priority to which we devote resources and efforts. One of the areas within the leisure sector that is experiencing the greatest development is that of adventure sports. Back in the day, (ten years ago), we were pioneers in the development of the Canyoning Parc in Argeles sur Mer, France.
Now, we are working as a joint venture with other companies from the sector, on the creation of an indoor adventure park, in which the Canyoning and speleology circuit, whose design and execution has been awarded to us, is the complex's main element.
Being an indoor park allows the complex to be operated and enjoyed throughout the year. Also, combining diverse elements in the adventure sports centre, makes its use flexible and accessible to all kinds of public.
Undoubtedly, it is an excellent idea for mountainous and winter sports areas, as this type of facilities can complete the sports and leisure activities offered during the winter and more importantly in the summer, they can also attract visitors, allowing the areas to be boosted and the tourist season to be adjusted.
We are sure that this pilot project will be the first of many similar centres to be developed in coming years.