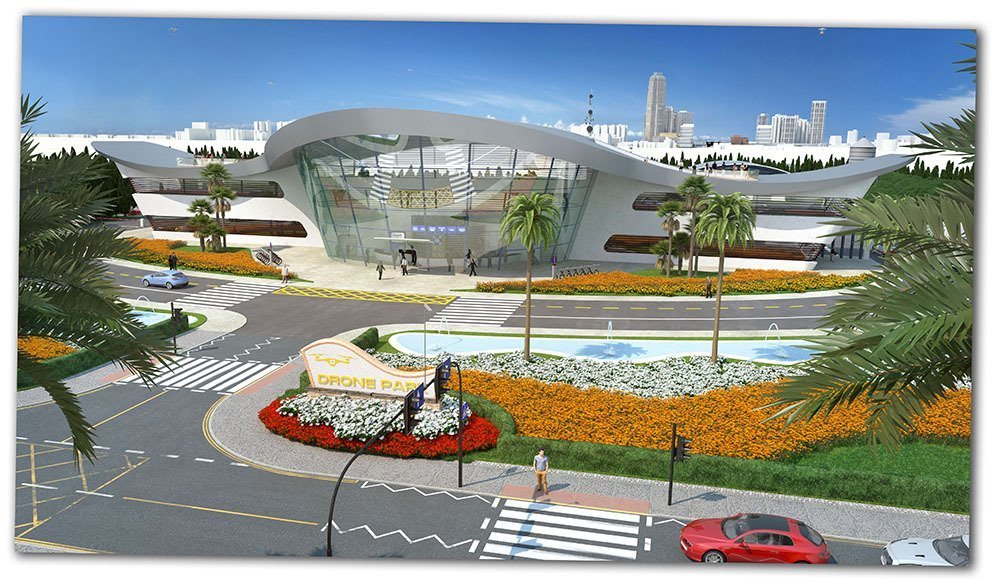 At Amusement Logic we understand that architectonic design should address and pay particular attention to the needs of contemporary society, derived from technological and cultural development. Drones are a perfect example of how a technological advance can lead to a new architectonic necessity, unimaginable a few years ago.
We are working on a Drone Port project, a logistical distribution centre for companies and individuals. It is a functional building, specifically designed as a logistical centre, allowing the exchange of goods between different transport systems: lorries, vans, short-range vertical take-off drones and long range horizontal take-off drones.
After studying all the possible configurations, we reached the most functional and contemporary design possible. The shapes of the access building that are reminiscent of a bird in flight, house a glass hall that welcomes users. This area also contains the areas for the workers, offices and control tower.
The centre has specific zones for the different logistical activities, such as picking, bulk floor storage, rack storage and cross docking. For all of these, we have designed loading docks and take-off and landing areas in orthogonal directions to use prevailing winds.