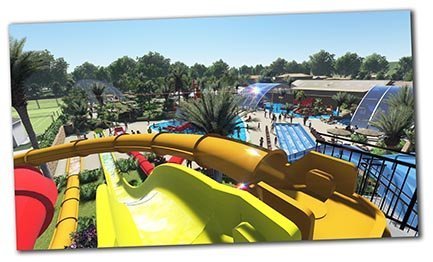 As we have mentioned in previous Newsletter editions, this season we are continuing to work intensely on the renovating and updating the leisure facilities in several campsites in the south of France.
One of our most important undertakings is centred on the expansion of the aquatic leisure area of Camping La Sirene, located in Argeles-sur-mer, France. This campsite has a special meaning for us, as it was the first leisure pool that we produced for a campsite, back in 1996. Since then, we have continued to work with the owner on the renovation of all the campsites that he has acquired. With this job, we have now participated in four projects. For a client to trust in our company during all this time, fills us with satisfaction and pride. It demonstrates how important it is to do things well, to have a long-term vision, even in times of economic crisis and difficulty, to care about the quality and to put customer before our own.
The expansion we are carrying out is more akin to a waterpark than campsite. It consists of the creation of two heated indoor leisure pools, one for children and youngsters and another for adults. There is also an outdoor pool with an impressive interactive game and a complex with four different slides, which will offer users a great variety of sensations.
As it did in 1996, La Sirene has once more demonstrated this pioneer spirit that has made the Sirene Group a reference in European camping. A bold gamble that shows confidence in the sector's future and the potential of an exclusive, quality product.