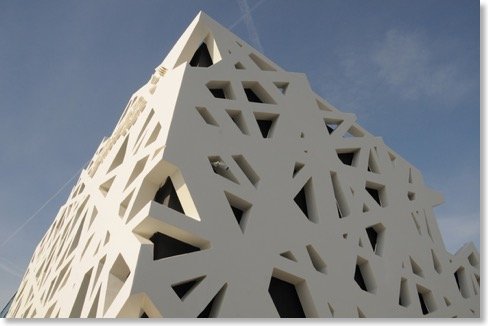 In this Newsletter, we are presenting a new solution for the design, manufacture and installation of three-dimensional coatings for ventilated façades, which we call 3D-Tech Wall.
Through the virtues of our 3D-Tech system, which is light and has great thermal and acoustic insulation power, we offer the chance of changing the appearance of any building's façade, at an affordable price and in a reduced delivery time. Our system can renew the image of any building, whether in urban builds, industrial warehouse façades or recoating family homes, with the consequent associated benefits of corporate image.
Furthermore, our solution allows the reproduction of any graphic or three-dimensional concept on the façade.
3D-Tech Wall opens up a new world of visual textures, colours and geometrical shapes of any kind, for renovating obsolete or degraded architecture with a modern, personalised image that is easily identifiable from a distance.