A childhood on the Mediterranean coast and the sea of Sicily inspired Manuel Romeo to study Marine Biology. After finishing his studies, his career led him first to dolphin training and then to becoming an expert in aquarium construction and management. He is currently devoted to this profession in the Middle East.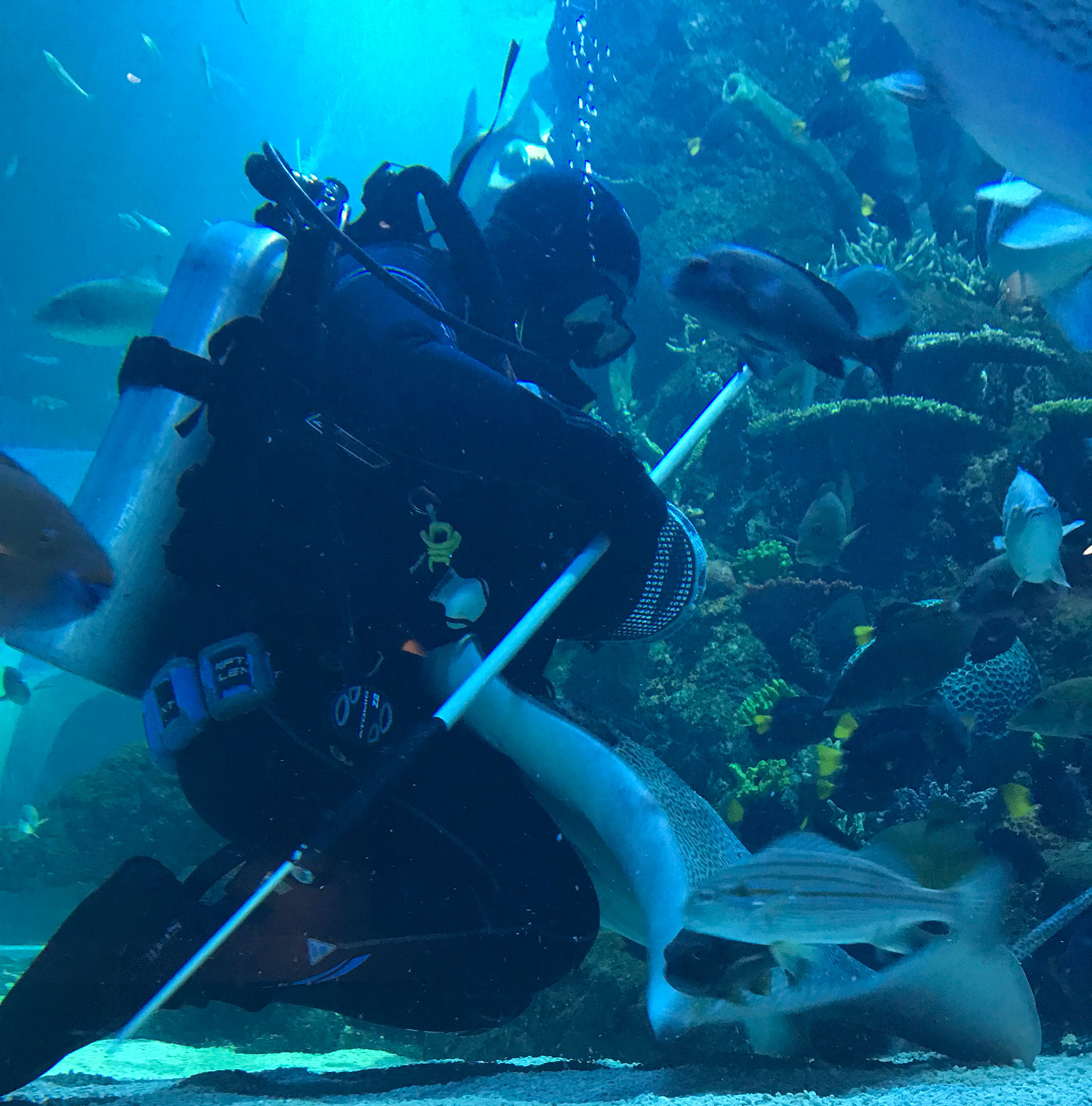 Amusement Logic: Your studies are oriented towards Marine Biology. What made you choose this specialty?
Manuel Romeo: I was born in front of the sea; this is the main reason why I decided to devote my life towards a career in Marine Environments. I was born and raised in Sicily (South Italy), I spent most of my childhood in a small place called Petrosino with an amazing seafront on the Mediterranean Sea. I remember since I was 9 years old how I used to spend whole days in the water with my brothers and my father observing and being amazed by the beauty and ecological webs underwater. Thus, when you have been raised in such an amazing place and you have a strong connection with the sea and its environment around you, the decision to pursue a career that will include it, was quite easy.
A.L.: Later on, you did a dolphin training experience at the dolphinarium in Rimini. It must have been an exciting activity. What does dolphin training consist of and how does it work?
M.R.: The dolphin training experience was extremely important to me, I had just finished my Bachelor's Degree and was moving to another city to start my Master's Degree. The course was run by WATA (World Animal Trainers Association) and it was about Basic and Advanced Operant Conditioning. The training consisted in showing the animals clear instructions that were associated with sharp noises (whistle), if the animal follows your lead and instruction you reward it with food, if not, you repeat the action until it gets  done. Despite the fact that I decided to not continue with a career as a dolphin trainer, this experience helped me to understand that I was willing to be part of high educational structures like public aquariums. I always believed that a public aquarium, especially in certain areas of the world, has a huge education potential and responsibility.
A.L.: You participated in a few projects when you were working for Underwater Environment Aquarium (UEA), in Dubai (United Arab Emirates): What were your responsibilities during these projects?
M.R.: Living in Dubai and coming from a small Sicilian reality was a big challenge for me, especially in the beginning. Dealing with so many people with their own separate cultures, families and religions was one of the most interesting experiences of my life. Part of my job was to interact with the clients, be able to understand their expectations about the aquarium they wanted or biotopes they would like to recreate and be able to deliver them a high standard of aquarium in their home. We have been involved in construction and maintenance of several aquariums from fresh water to a full reef aquarium. For bigger projects my responsibility was mostly related to Project Management and supervision of acrylic windows and Life Support Systems (LSS) installation and commissioning.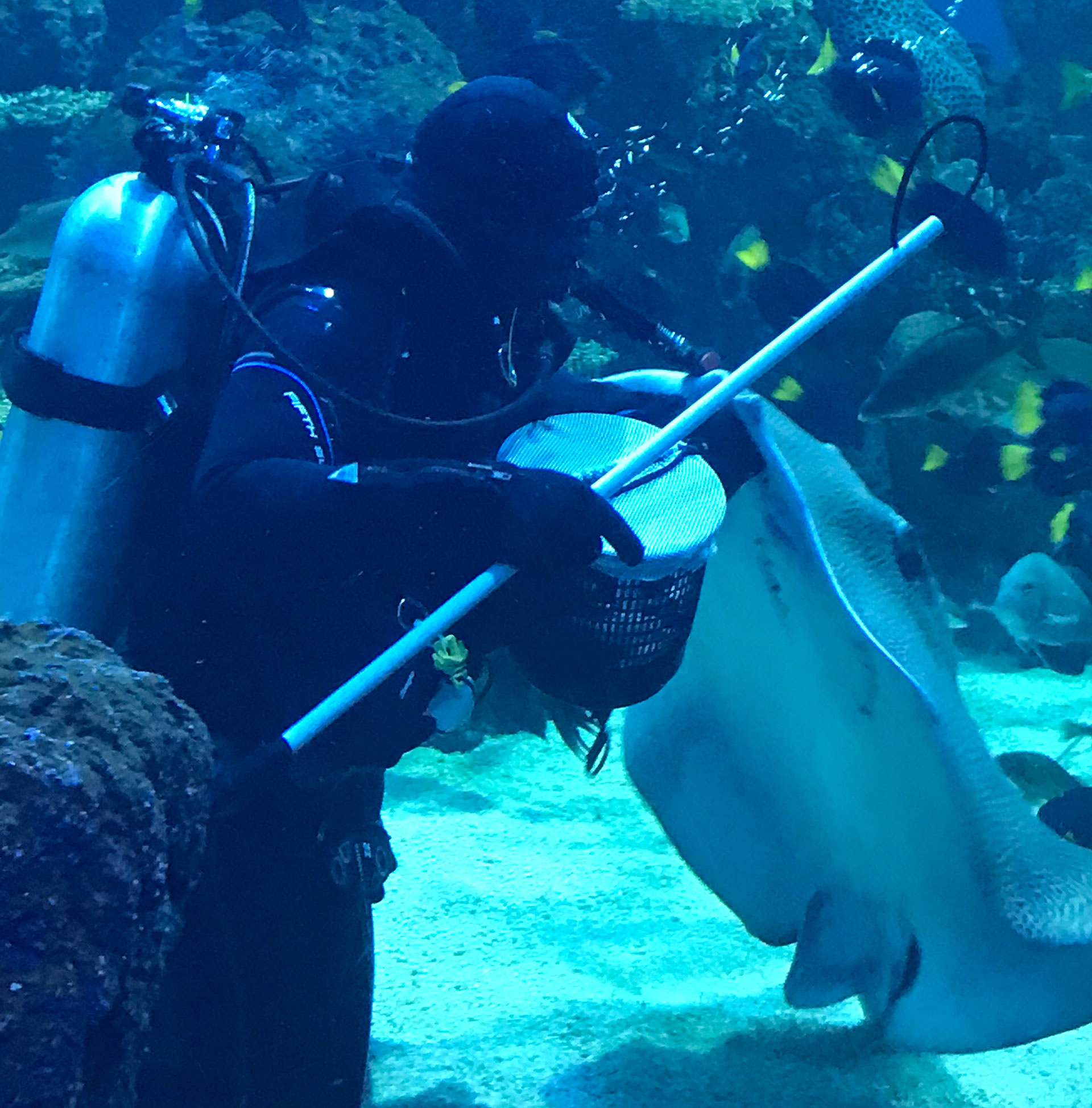 A.L.: What are the characteristics of the big project you worked in, in the United Arab Emirates?
M.R.: I have a confidentiality agreement about our projects and clients back in Dubai, so I won't be able to give such information. Nevertheless, one of the most interesting projects I have ever done in Dubai was an 80,000 Litre corals tank. There I was involved with the concrete waterproofing, acrylic installation, internal decoration and LSS installation and system commissioning. The decoration was made by high porosity ceramics and considering the tank was 3 meters deep we had to use stronger lights to reach the bottom of the tank. Most of the corals and fish were supplied from Indonesia.
A.L.: How did you move from the UEA in Dubai to the Oman Aquarium?
M.R.: While in Dubai, I had the chance to meet so many interesting people and aquarium experts. One of them, who is now a very good friend of mine, one day asked me if I could be interested in being part of a new aquarium in Oman (Not far from Dubai). I didn't even think about it and I immediately decided to start this adventure. Having the chance to be part of the construction of such an amazing project is not an everyday opportunity. Thus, I have been involved in the construction and commissioning of the aquarium as well as most of the initial collection of fish, invertebrates, sharks and rays.
A.L.: What are the characteristics of the Oman Aquarium and what is its position in the context of this country and the Middle East?
M.R.: The Oman Aquarium is one of the best of its kind in the Middle East, in my opinion for many reasons. First, it displays many different environments and animals from various parts of the world, and second, it also allows the guests to explore unique areas of this incredible country. From the typical Oman Wadis to the Omani deserts, from the shores of the country to its amazing coral reefs. In fact, the aquarium follows the steps of the famous Omani traveller, Ahmed Ibn Majid. Other areas that you can find while visiting the aquarium are the regional mangroves forest, the Asian Mekong rivers biotopes and species. Not forgetting the African shores of the Malawi and Tanganyika lakes, crocodiles from the Nile River and the unique penguins from South Africa. We have as well 6 jellyfish tanks that we fill with the seasonal jellyfish you can encounter in this rich region.
A.L.: What was your work on this aquarium?
M.R.: My job at the Oman Aquarium was Senior Aquarist. As I mentioned before I was involved in the collection and acclimatization of the animals needed for the aquarium, but I mainly took care of the main tank which is around 2 million litres as well as the corals tank which is around 5000L. I was very lucky because I was part of an amazing team which worked well and collaborated together. I also had the chance to work with people who have different expertise and extensive backgrounds like Suresh Aswal, Joe Hogue and Lamjon López. Part of my duties was to control the welfare of the animals and be sure they are healthy and in good shape in order for the aquarium guests to appreciate their beauties. Organizing and performing feeding regimes, cleaning and syphoning the tanks and also controlling water parameters and giving medical attention to the animals that require it.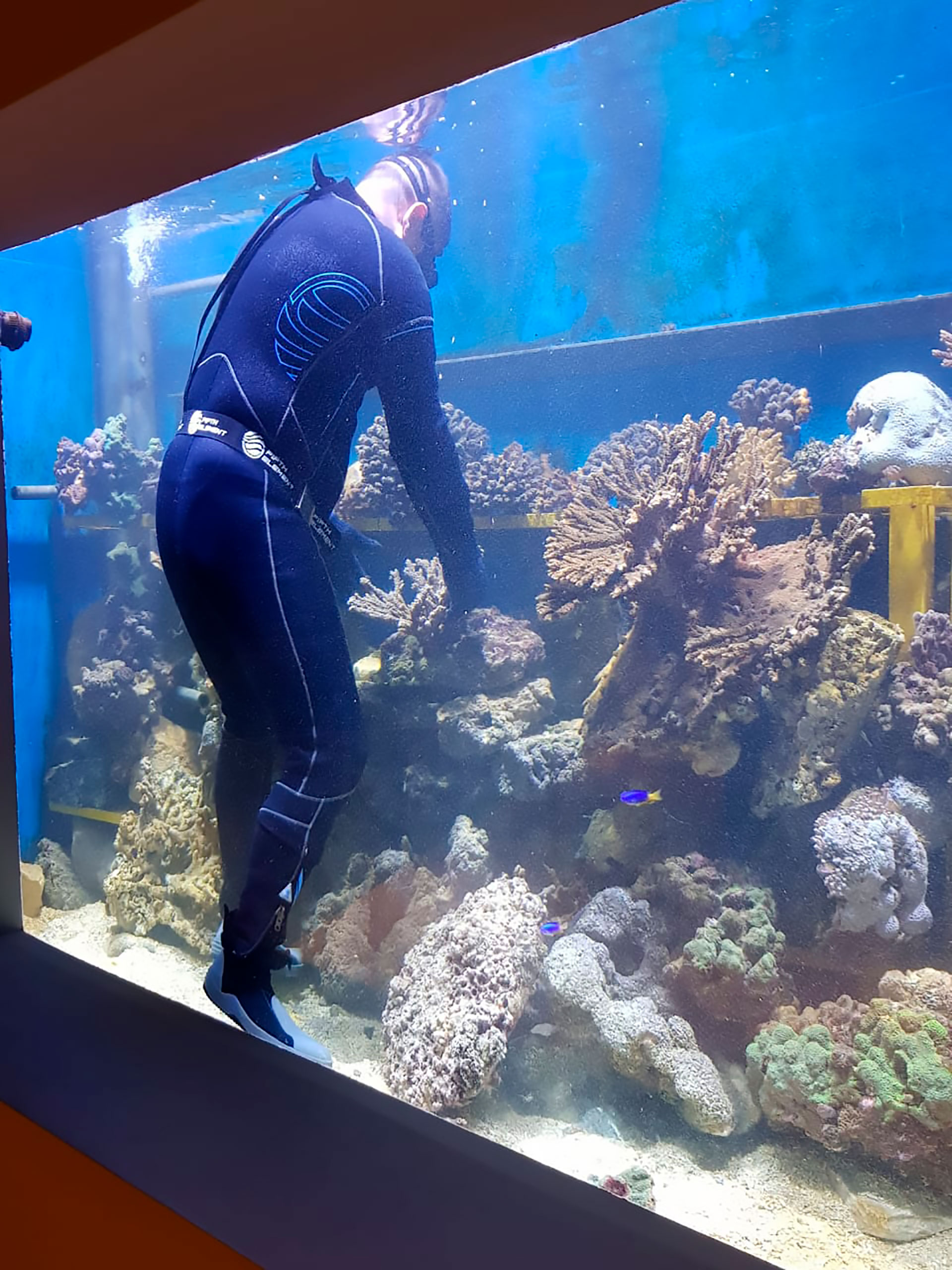 A.L.: How is it appreciated by the visitors and what are their characteristics (ages, backgrounds, etc.)?
M.R.: Oman before the pandemic hit, used to have a very large touristic flow, thus in the beginning most of the guests were tourists exploring the country. And schools would also take the opportunity to allow for learning outside of the classroom. We always had a decent amount of local people coming to see the aquarium, but this has decreased since the tourism in the country has been impacted. We were closed to the public since March 2020 and opened again only in December 2020 and this had an impact on our Aquarium. Now most of the clients are Omani coming with their families and children.
A.L.: What would you say to people who doubt the suitability of animal parks?
M.R.: I strongly believe that animal parks have a huge potential and responsibility towards our society. Being able to show people the reasons why they should not pollute rivers and oceans, or overfish an animal or kill a starfish is one of the privileges animal's parks have. They have the opportunity to bring awareness and change on environmental issues that affect these animals and ecosystems. Imagine if all the children of a country would see with their own eyes how magical a Bowmouth Shark or a crab are, then we would have achieved our goal, hoping this child will continue with this understanding and pass it on, changing the mindset of further generations and bringing about the desired changes.
A.L.: How do you see the future of this type of attraction?
M.R.: I believe the pandemic caused by COVID 19 has shifted priorities around the world. Our market should be adequate to the changing times and offer educational packages and aquarium visits online, re-inventing the formats and creating content for people to appreciate it from home, hoping that in the near future we will be able to control the pandemic and allow people to enjoy aquariums around the world again.
The educational potential of animal parks and aquariums in general is too great to be lost, so I believe it will always be important in our societies. "Education is the passport to the future, for tomorrow belongs to those who prepare for it today", as Malcom X said.