Wave Opera House was created with the aim of producing a large space for a city's culture and performing arts, providing a public space that actively enriches citizens' lives.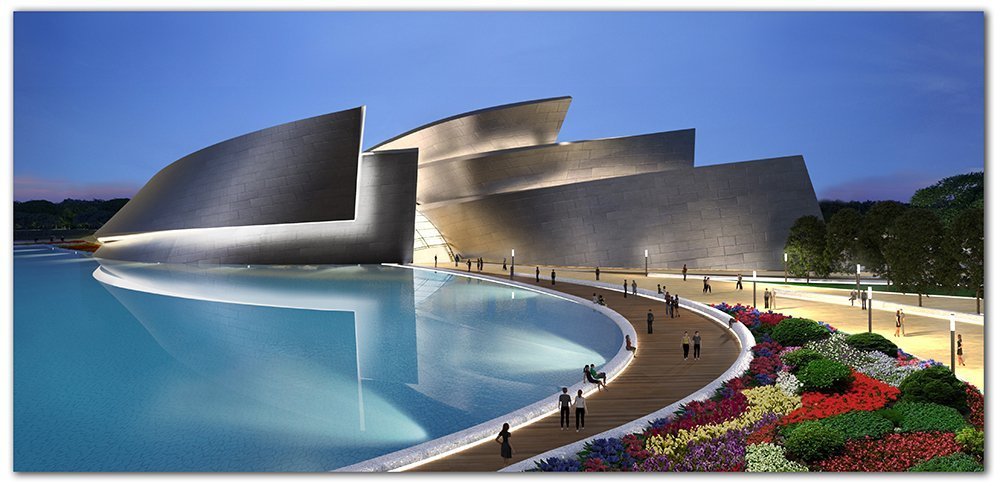 As if it were a wave crashing onto rocks, the building adopts fluid and dynamic shapes composed by large concrete and metal slabs. These forms open up and outwards in a generous gesture that invites the content to be shared with its surroundings, allowing citizens to participate in the different events and exhibitions housed within.
At night, the building stands as a beacon of light and culture, becoming the city's architectonic landmark, emitting an unmistakeable beam of light.
The building's shapes allow activities to be held both inside and out. The main enclosure is a multifunctional opera palace, with a 1400 seat capacity. This space has variable acoustic systems, which allow the adjustment of reverberation times, thus extending the range of works that can be performed, from operas and concerts to meetings and conferences, with optimum acoustic conditions throughout.
The building's exterior with an amphitheatre and open areas, allows for temporary exhibitions, musical performances, ephemeral events and cinema screenings, making this area of the city a hub of activity, culture and night-life.
From a bioclimatic perspective, the building has passive solutions which reduce heating consumption. The sinuous shapes have a studied solar-control function, providing shade to the surrounding enclosures. This structure with large curved walls permits exceptional thermal insulation properties. The roofs are hidden behind said walls and have photovoltaic panels for the building's self-supply.
Furthermore, the building's spiral shape facilitates the collection of rainwater, in a series of strategically arranged tanks, allowing it to be reused both in the building and in the adjoining garden areas.